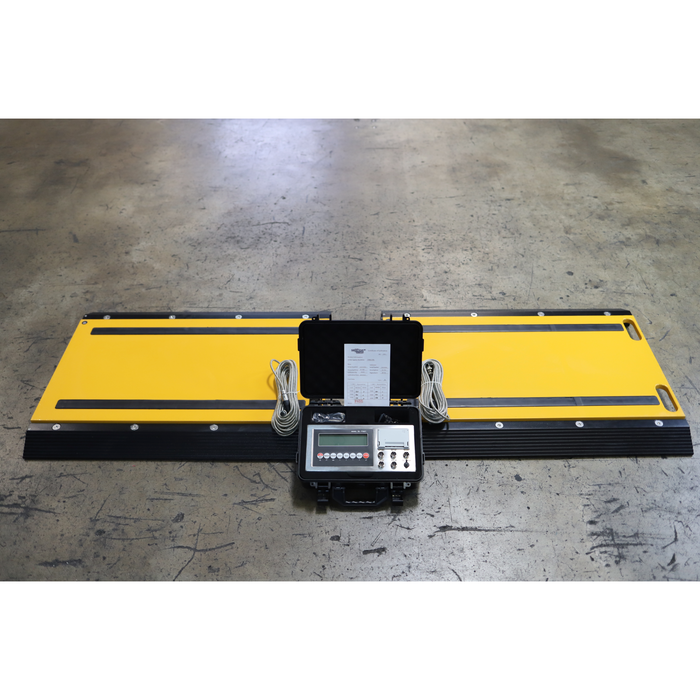 LS-928-2036 Weigh pads system for vehicles, air craft, container 20" x 36" surface
Original price
$4,999.00
-
Original price
$14,498.00
Introducing the LS-928-2036 Weigh Pads System, the ultimate solution for weighing large vehicles, aircraft, and containers.
Designed by Liberty Scales, this portable and heavy-duty system is built to handle even the most demanding weighing tasks easily.
Key Features:
Crafted from lightweight and high-strength aluminum, these weigh pads are durable and incredibly easy to transport.
With a length of 20 inches, a width of 36 inches, and a height of 2 inches, they provide ample surface area for accurate and efficient weighing.
The interlocking skid-resistant ramps ensure safe and secure entry onto the pads, allowing for hassle-free weighing every time.
Featuring 8 load cells per pad, this system ensures precise measurements for even the heaviest loads.
Whether you need to weigh large vehicles, containers, airplanes, or cargo, the LS-928-2036 Weigh Pads System covers you.
Plus, with the option to customize your system with 2, 4, or 6 pads (wireless), you can choose the configuration that best suits your needs.
The LS-7561 Multi-Channel Briefcase Indicator with a built-in printer is included with this weigh pad system. This innovative indicator provides real-time weight readings and allows you to print out weight tickets on the spot for easy record-keeping.
The 33-foot-long metal shielded cable ensures seamless connectivity between the pads and the indicator.
Rest assured knowing that a 5-year warranty protects your investment. Liberty Scales stands behind the quality and reliability of its products, giving you peace of mind with every purchase.
Experience unparalleled accuracy and convenience with Liberty Scales's LS-928-2036 Weigh Pads System.
Shipping Options:
FREE SHIPPING:

 

Enjoy complimentary shipping to business addresses within the contiguous 48 states of the US.
Residential Delivery:

 

For home-based convenience, opt for residential delivery with an additional $100 shipping fee.
Lift Gate Services:

 

Need a forklift? No problem! Access the lift gate service for just $50.
Hawaii & Alaska:

 

Customers in these regions, please reach out for a customized shipping quote.
Upgrade your weighing capabilities today and take control of your weighing needs like never before.