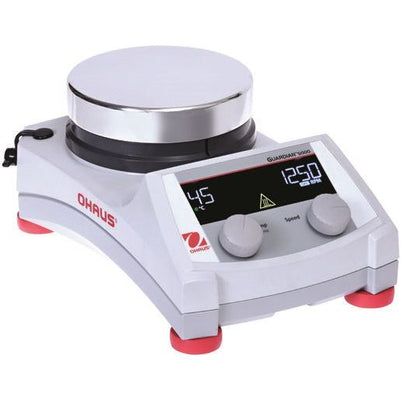 Digital Hotplate Stirrers Guardian 3000 e-G31HS07C 115V
Original price
$460.00
-
Original price
$460.00
Introducing the Digital Hotplate Stirrers Guardian 3000 e-G31HS07C 115V, cutting-edge lab equipment designed to revolutionize your research.
With its innovative features and advanced technology, this hotplate stirrer is the perfect companion for all your scientific experiments.

Safety is a top priority in any laboratory setting, which is why this hotplate stirrer is equipped with SafetyHeat™ - an industry-leading early detection system. This system utilizes two independent safety controls to monitor the electronics and prevent overheating, ensuring the safety of the user and the lab environment.

Achieving precise stirring has always been challenging. Thanks to its powerful motor, strong magnet, and software-controlled ramp rate, this hotplate stirrer offers stirring speeds ranging from 60 to 1600 rpm. Whether working with viscous solutions or conducting delicate experiments, this device provides secure magnetic coupling for optimal performance.

Monitoring and controlling your experiments is now simpler than ever. The bright LCD of the Digital Hotplate Stirrers Guardian 3000 e-G31HS07C 115V features large temperature and speed settings, intuitive icons, and a prominent hot top indicator. With just a glance, you can easily track the performance of your experiments from across the lab.

Versatility is vital in lab equipment, and this hotplate stirrer does not disappoint. Its wide range of applications includes boiling water, water/oil bath preparation, sample and solution preparation, dissolving buffers and reagents, preparing media, and concentrating samples. With its robust construction and easy-to-clean ceramic or aluminum tops, this device is built to withstand the demands of any laboratory environment.

Invest in the Digital Hotplate Stirrers Guardian 3000 e-G31HS07C 115V for unparalleled performance and reliability in your lab.
Experience the future of scientific research with this state-of-the-art hotplate stirrer.