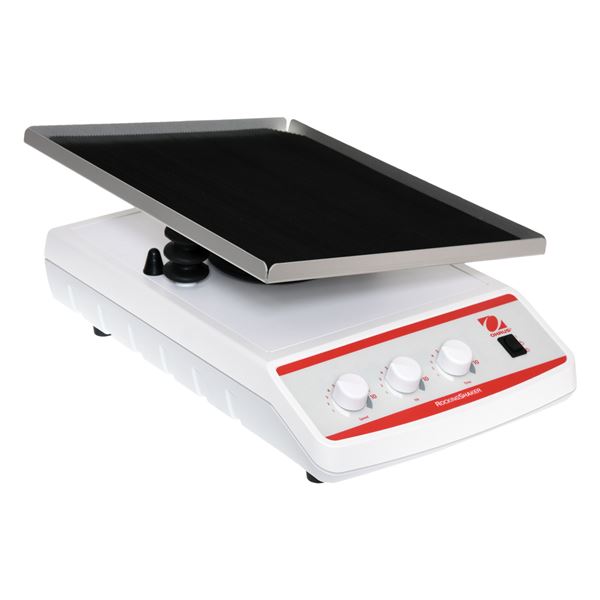 Ohaus, Rocking & Waving Shakers SHRK07AL1, 16.1 lbs - 120V
Original price
$1,195.00
-
Original price
$1,195.00
Introducing the Ohaus Rocking & Waving Shakers SHRK07AL1, a reliable and efficient solution for all your mixing needs.
With its electronic control and precise tilt angle and speed adjustments, this shaker ensures optimal mixing while delivering reproducible results you can trust.


Digital models of the Ohaus Rocking & Waving Shakers SHRK07AL1 provide you with the flexibility to adjust the tilt angle in 1° increments and vary the speed down to 1 rpm using the intuitive touchpad controls. This level of control allows you to achieve the perfect mixing conditions for your specific application, whether it's blood sample mixing, DNA extractions, blotting techniques, staining and destaining gels, or hybridizations.

One standout feature of this shaker is its optimal speed ramping capability, which gradually increases the speed to your desired setpoint, minimizing splashing and ensuring a smooth rocking or waving motion. The state-of-the-art motor and electronics work together to maintain this motion consistently, giving you peace of mind that your samples are being mixed thoroughly.

The easy-to-read LED displays on the digital models provide instant access to information about speed, tilt angle, and time, allowing you to monitor all settings simultaneously. For those who prefer analog models, essential control knobs with clear dial markings make it easy to adjust speed, tilt angle, and time. Additionally, the spill-resistant design ensures that any accidental spills won't damage the unit.

Constructed with a durable cast aluminum housing, this shaker is built to last. The non-slip rubber mat included with every unit provides stability during operation. For added convenience, a stacking tray option is available with all models except the analog Waver model.

The Ohaus Rocking & Waving Shakers SHRK07AL1 also prioritizes safety with its overload protection feature. Digital models come equipped with an audio/visual alarm to alert you in case of overload, while analog models emit an audible alarm. This ensures that your samples and the shaker itself are protected at all times.

Invest in the Ohaus Rocking & Waving Shakers SHRK07AL1 and experience the ultimate mixing performance with reproducible results.