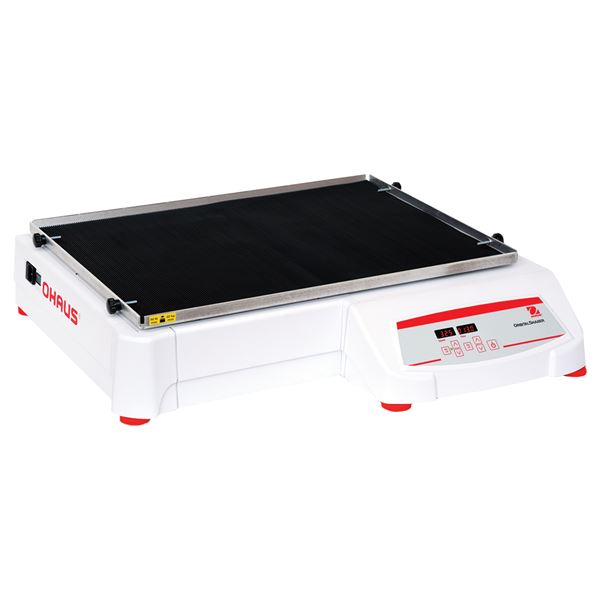 Ohaus, Heavy Duty Orbital Shakers SHHD2325DG, 50 lbs - 120V
Original price
$6,125.00
-
Original price
$6,125.00
Introducing the Ohaus Heavy Duty Orbital Shakers SHHD2325DG, the ultimate lab companion for all your shaking needs.
This powerful shaker is ready to go right out of the box, as it comes complete with a tray and rubber mat. Plus, with over 70 accessory options, you can customize it to suit your specific requirements.

The standout feature of these digital shakers is the exclusive Accu-Drive shaking system. With this innovative technology, you can expect exceptional speed control, accuracy, and unmatched durability. The maintenance-free motor ensures long-term reliability, allowing you to focus on your experiments without worrying about equipment failure.

One of the key advantages of the Ohaus Heavy Duty Orbital Shakers is their ability to protect your valuable samples. The optimal speed ramping feature gradually increases the speed to the desired setpoint, preventing messy splashing accidents. Additionally, the load sensor detects unbalanced conditions and automatically reduces the speed to a safe level, ensuring the integrity of your samples at all times.

Whether you're working with cell cultures, solubility studies, extractions, or bacterial and yeast cultures, these shakers have got you covered. They are also perfect for staining/destaining procedures, immunoassays, protein studies, and blotting techniques. Versatility is at its core.

Operating the shakers is a breeze with independent LED displays for speed and time settings. You can easily view and adjust both parameters simultaneously. For those who prefer analog models, control knobs with clear dial markings make it simple to set the desired speed.

In terms of construction, these shakers are built to last. Crafted from cold rolled steel (CRS), they can withstand even the most demanding lab environments. The built-in tray with a non-slip rubber mat adds an extra layer of convenience and stability.

For seamless data logging and unit control, the digital models have an RS232 interface, enabling two-way communication. You can effortlessly transfer data and control the shaker's operation.

In conclusion, the Ohaus Heavy Duty Orbital Shakers SHHD2325DG are the perfect choice for any lab seeking reliability, precision, and versatility.
Upgrade your shaking capabilities and elevate your research with this exceptional equipment.