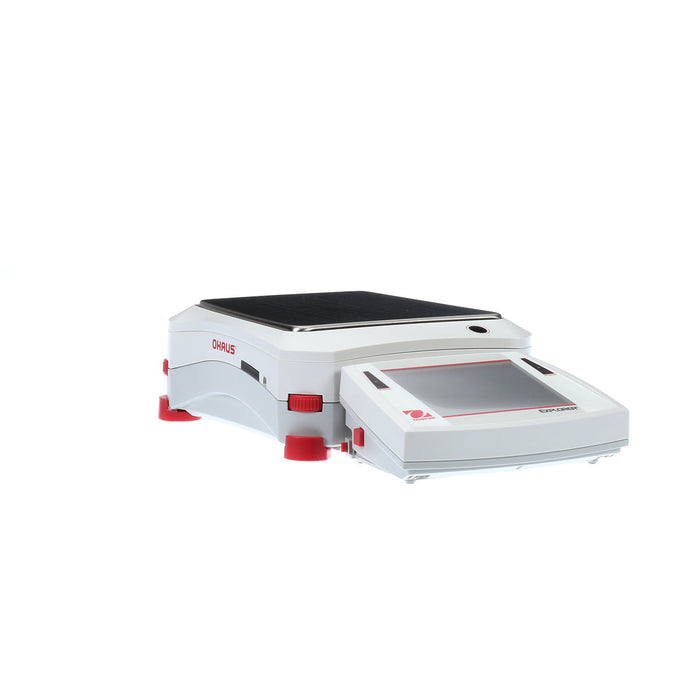 Ohaus Explorer Precision NTEP EX6201N, Legal For Trade, 6200g x 0.01g
Original price
$4,290.00
-
Original price
$4,290.00
Introducing the Ohaus Explorer Precision NTEP EX6201N, Legal For Trade, 6200g x 0.01g - a flagship balance designed by OHAUS, the trusted name in precision scales.
With its remarkable features and exceptional accuracy, this balance is necessary for laboratory and industrial environments.


The Explorer Precision NTEP EX6201N boasts a 5.7" full-color VGA graphic touchscreen display, allowing users to navigate and control the brightness according to their preference easily. The clarity of the display ensures that all measurements are precise and visible at a glance.

Communication is made effortless with the RS232 and USB connectivity options included with the balance, while additional accessories can be purchased for a second RS232/Ethernet connection. The GLP/GMP data output feature and a real-time clock provide accurate and reliable data management.

Built with durability in mind, this balance features a metal base, ABS top housing, and a stainless steel pan for long-lasting performance. The glass draft shield has top-mounted side doors and a flip/sliding top door (available on 1mg models), allowing easy access and protection against external influences.

The Ohaus Explorer Precision NTEP EX6201N offers a range of design features to enhance user experience. Selectable environmental filters ensure accurate readings in any setting, while the auto tare function simplifies weighing processes. Users can also customize calibration points, communication settings, and data print options to suit their requirements.

Operating the balance is hassle-free with the included AC adapter. With its precision-machined weighing cell and exceptional construction, this balance guarantees accuracy and durability for all your weighing needs.

Designed for regulated applications, the Explorer Precision NTEP EX6201N incorporates advanced security features such as four-level user management with password protection, a non-editable system log, and a high configuration level. This ensures compliance and reliability for applications that require strict adherence to standards.

The detachable terminal of the Explorer Precision NTEP EX6201N features a large color touchscreen and programmable IR sensors, making it user-friendly and convenient to use. The frameless draft shield enhances visibility and accessibility during weighing procedures.

Invest in the Ohaus Explorer Precision NTEP EX6201N, the epitome of accuracy, durability, and user-friendliness.
Experience the excellence of OHAUS precision scales and elevate your weighing capabilities to new heights.