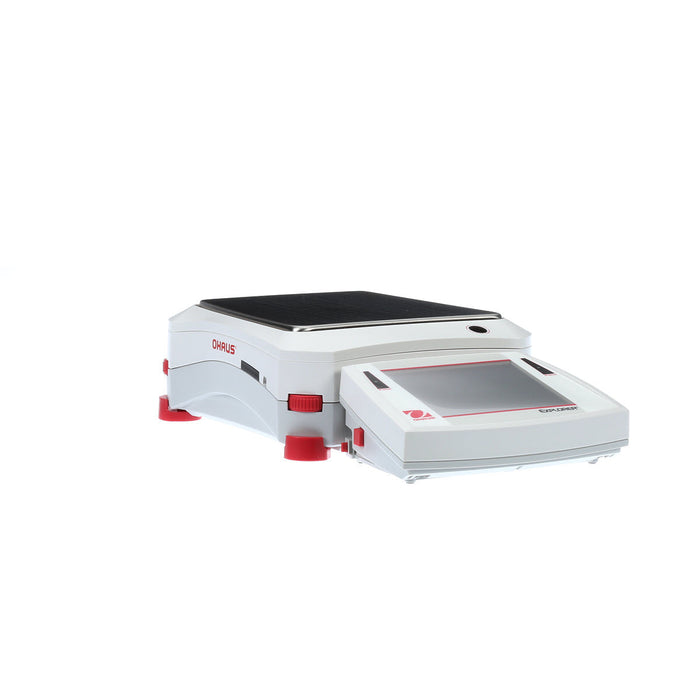 Ohaus Explorer Precision NTEP EX2202N/E, Legal For Trade, 2,200 g x 0.01g
Original price
$3,474.00
-
Original price
$3,474.00
Introducing the Ohaus Explorer Precision NTEP EX2202N/E, Legal For Trade, 2,200 g x 0.01g - a flagship balance that combines superior accuracy and durability for both laboratory and industrial environments.


With a capacity of 2200 g and a readability of 0.01 g, this precision scale from Ohaus is designed to deliver precise measurements with every use. The stainless steel pan, glass draftshield with top-mounted side doors, and flip/sliding top door (1mg models) ensure optimal sample containment and protection from external influences.

Featuring a 5.7" (145 mm) full-color VGA graphic touchscreen display, the EX2202N/E provides an intuitive user experience with user-controlled brightness. The display allows for easy navigation and quick access to various functions and settings.

Communication is seamless with the EX2202N/E. It comes equipped with RS232 and USB connectivity, allowing for data transfer and integration with external devices. For enhanced connectivity options, accessories such as a second RS232/Ethernet can be purchased separately. GLP/GMP data output with a real-time clock ensures accurate record-keeping and compliance with regulatory requirements.

Constructed with a metal base and ABS top housing, this balance is built to withstand demanding environments. The illuminated up-front level indicator ensures precise leveling, while the security bracket provides additional stability.

The Ohaus Explorer Precision NTEP EX2202N/E offers a range of design features that enhance usability and customization. Selectable environmental filters allow accurate weighing in various conditions, while auto-tare simplifies repetitive weighing tasks. Users can also calibrate the balance using selectable span calibration points for added accuracy. The software lockout and reset menu ensure data integrity and prevent unauthorized access.

Operating the EX2202N/E is effortless with the included AC adapter. This balance is equipped with four touchless sensors that enable hands-free operation, making it ideal for busy laboratories and industrial settings.

With its precision-machined weighing cell and high level of configuration, the Ohaus Explorer Precision NTEP EX2202N/E is a reliable choice for regulated applications. Its user-friendly interface, programmable IR sensors, and detachable terminal with a large color touchscreen make weighing tasks efficient and convenient.

Choose the Ohaus Explorer Precision NTEP EX2202N/E for accurate and reliable measurements in your laboratory or industrial facility.
Experience the excellence of Ohaus precision scales.