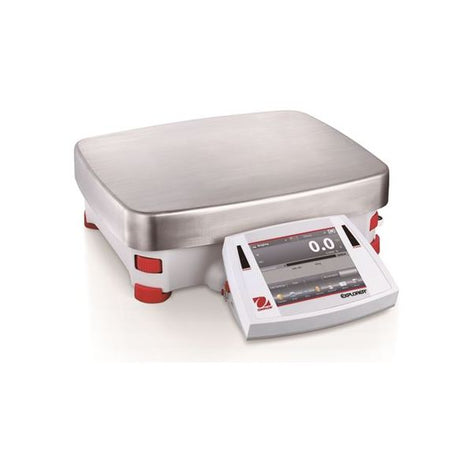 Ohaus Explorer Precision High Capacity EX24001N, Stainless Steel, 24000g x 0.1g
Original price
$6,215.00
-
Original price
$6,215.00
Introducing the Ohaus Explorer Precision High Capacity EX24001N, Stainless Steel, 24000g x 0.1g - the flagship balance from OHAUS.
Designed for laboratories and industrial environments, this high-capacity balance combines accuracy, durability, and user-friendly features to meet all your weighing needs.

Equipped with a precision-machined weighing cell, the Explorer balance ensures exceptional accuracy and long-lasting performance. With a capacity of 24,000g and readability of 0.1g, it provides precise measurements for various applications. Whether you're weighing large samples or small components, this balance delivers reliable results.

The 5.7" full-color VGA graphic touchscreen display is visually striking and highly intuitive to use. You can easily adjust the screen according to your preferences with user-controlled brightness. Accessing and navigating the balance's functions is effortless, thanks to the touchscreen interface.

Communication is made seamless with the EX24001N. It offers RS232 and USB connectivity as standard, allowing you to connect it to your computer or other devices effortlessly. You also have the option to add a second RS232/Ethernet connection (accessories sold separately) for enhanced connectivity capabilities. The balance supports GLP/GMP data output with a real-time clock, ensuring accurate record-keeping and traceability.

Constructed with a modular design and an IP54 metal base, the EX24001N is built to withstand demanding environments. The die-cast top housing and stainless steel pan further enhance its durability. The up-front level indicator makes leveling quick and easy, while the integral weigh below hook adds versatility to your weighing tasks.

The Ohaus Explorer Precision High Capacity EX24001N has convenient features that enhance usability and efficiency. Selectable environmental filters allow you to tailor the balance's performance to suit your specific requirements. The auto tare function simplifies repetitive weighing tasks, while the user-selectable span calibration points ensure accurate readings across a wide range of weights.

With software lockout and reset menu options, you can prevent unauthorized access and maintain data integrity. The balance also allows you to customize communication settings, data print options, project IDs, and user IDs. With up to 14 operating languages, it caters to users worldwide.

The balance can be powered using the included AC adapter or a rechargeable battery (accessory sold separately), allowing you to use it anywhere in your workspace.

Experience the precision and reliability of the Ohaus Explorer Precision High Capacity EX24001N. Its robust construction, advanced features, and user-friendly interface make it the ideal choice for professionals in laboratories and industrial settings.
Invest in accuracy with Ohaus.