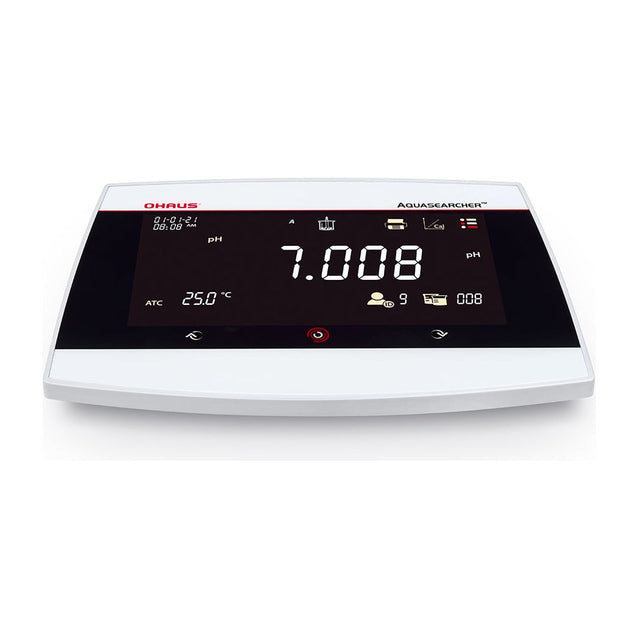 Ohaus AQUASEARCHER pH Bench Meter AB41PH-F, -2.000 – 20.000 pH;-10.0 °C – 125.0 °C;-2000.00 – +2000.00 mV
Original price
$1,255.00
-
Original price
$1,255.00
Introducing the Ohaus AQUASEARCHER pH Bench Meter AB41PH-F, the ultimate solution for precise pH measurements in laboratory settings.
With a pH range of -2.000 to 20.000, this bench meter provides accurate and reliable results for a variety of applications.

The AB41PH-F is designed to meet the needs of scientists and researchers who require precise and consistent pH measurements. It features selectable reading reference temperatures of 20 or 25 ºC, allowing for customization based on your specific requirements. The linear curve options and automatic temperature compensation ensure that you get accurate results every time.

This pH bench meter is equipped with several advanced features that make it perfect for universal laboratory applications. The auto-stop function saves you time and effort by automatically stopping the measurement once stability is reached. The auto temperature compensation feature adjusts the readings based on the temperature, ensuring accurate results even in fluctuating conditions.

The AB41PH-F also offers an adjustable TDS factor and compatibility with both 2- and 4-cell conductivity probes, giving you flexibility in your experiments. The 6.5" segment and dot matrix LCD with backlight allows for easy reading of measurements, even in low light conditions.

Data documentation is made efficient with the 1000-item memory for conductivity measurements and calibration trail. You can easily connect the bench meter to external devices through the standard RS232 and USB interfaces, enabling seamless data transfer and analysis.

Constructed with durability in mind, the AB41PH-F features an ABS top housing and a standalone electrode holder for convenience during operation. The i-Steward design features, such as calibration due alarm and 1000 measurement memory, ensure accuracy and ease of use.

Whether you're working with conductivity, total dissolved solids (TDS), salinity, or resistivity, the Ohaus AQUASEARCHER pH Bench Meter AB41PH-F is your reliable companion in the laboratory.
Experience precise measurements and efficient data management with this exceptional bench meter.