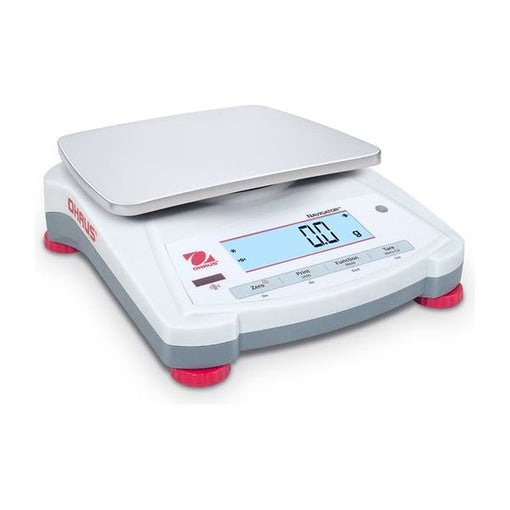 Ohaus 5.7"x7.5 NV Series Portable Balances NV221 220g x 0.1 g
Original price
$267.00
-
Original price
$267.00
Introducing the Ohaus 5.7"x7.5 NV Series Portable Balances NV221, the ultimate weighing solution for professionals needing accuracy and efficiency.
With a maximum capacity of 220g and readability of 0.1g, this portable balance is designed to meet your weighing needs with precision.

Equipped with advanced weighing technology, the NV221 offers one-second stabilization for rapid and accurate weighing results. This not only improves operator efficiency but also enhances productivity and throughput. Say goodbye to long waiting times and hello to seamless weighing operations.

Safety is paramount, which is why this portable balance features an overload protection system capable of withstanding loads up to four times its rated capacity. Rest assured, knowing that your credit is built to handle heavy-duty tasks without compromising accuracy.

The Ohaus NV221 isn't just limited to weighing applications. It also offers versatile functionality such as parts counting, percent weighing, and checkweighing. Whatever your specific weighing needs, this portable balance has got you covered.

Designed for convenience, the NV221 features a user-friendly liquid crystal display (LCD) with backlighting, ensuring easy readability even in low-light conditions. Powered by an AC adapter (included) or 4 C batteries (not included), you can use it anywhere, anytime.

With multiple communication options available, including RS232, USB, or Ethernet (accessories sold separately), you can effortlessly connect the NV221 to your preferred device for data transfer and analysis.

Built to last, this portable balance boasts an ABS housing and a stainless steel pan for durability. It also comes with a transportation lock, slip-resistant and adjustable feet, and a levelling bubble for added stability during operation.

Additional design features include a menu and calibration lock switch, mechanical and software overload/underload protection, stability indicator, low battery indicator, auto shut-off function, user-selectable print options, and user-selectable communication settings.

Regarding reliable weighing solutions, the Ohaus 5.7"x7.5 NV Series Portable Balances NV221 is the top choice for professionals who value accuracy, efficiency, and durability.
Invest in this portable balance today and experience the difference it can make in your daily weighing tasks.