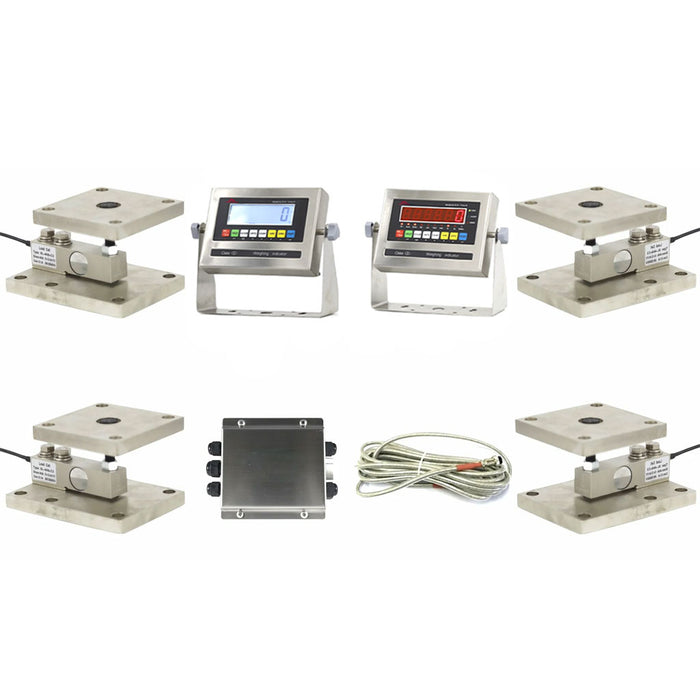 Liberty LS-730-TM Single ended shear beam Load cell Conversion kit weigh module for Scale Tank, Hoppers & vessels
Original price
$2,473.99
-
Original price
$4,452.99
Liberty offers single-ended beam load cell conversion kits. This kit could be used to make tanks, hoppers, vessels, machinery & much more into a scale unit.
Load cells are mounted to the feet or bottom of the platform. Stainless Steel Indicator, charger, connection cable & Stainless Steel junction box with a 4 channel summing card is also included with this package.
All packages include the total weight capacity of all (4) load cells. As a general rule, it is best to have a 40 % higher capacity than needed. this way, load cells don't go under the stress of too much weight.
Features:
Single-ended (Plated Alloy Steel) load cell with mount
Stainless Steel LCD or LED indicator
Stainless Steel Junction box ( 4 Channel )
Limited Warranty: 5 years

 
Load cells modules: 
Safe overload: 200%

 

Destructive load:

 

300% F.S

 

Excitation recommended: 10-15V AC/DC
Operation Temperature: -10°C - 40°C ( 14°F - 104°F )

 

Standard Cable: 250-5k lbs ( 20ft / 6m ) ,

 

10k-20k lbs: (40ft

 

/12M )
Rated output: 3.0mV/V
Load cell Resistance: 350Ω Ohms

 
Indicator:  
Stainless Steel casing
AC adapter included (Battery is optional)
Multiple weighing units: (lb/kg); (g/oz/lb:oz) available on LCD only
Gross/Tare/Pre-Set Tare/Zero
Multiple Hold functions
Count weighing
Accumulation weighing
Overload / Underload alarm
Power saving mode
Automatic date and time update
Ability to modify gravity based on
different geographical locations

 

100% manual zero range setting
Automatic error warning alarm
Splash-proof

 

keyboard and display
Connects to a remote display
Connects to multiple printers
NTEP approved for 5,000 divisions

 

Certificate Number: 20-069
Displays up to 50,000 graduations
1" LED or LCD display with backlight
Mounting bracket and Hardware (included)
Operates on 110V AC adapter (included)
Full Duplex RS-232 Serial Port
Drives up to 6 350Ω OHMS load cells