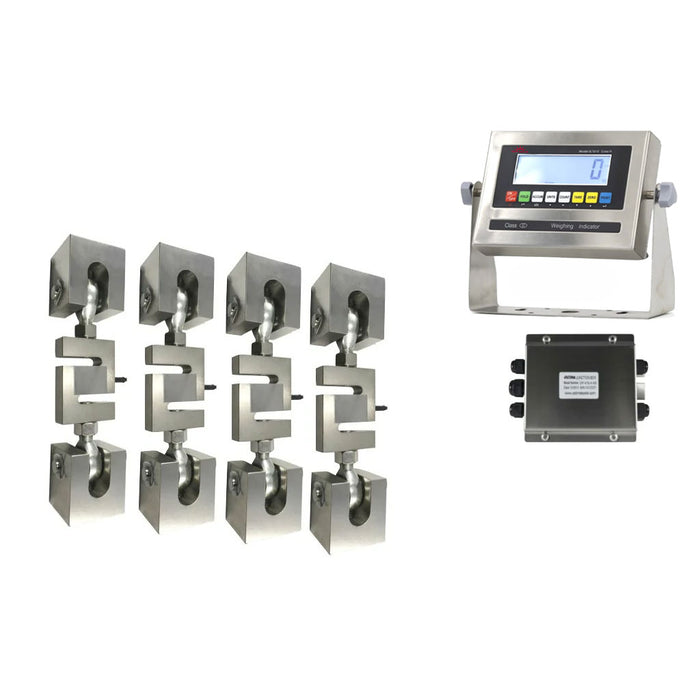 Liberty LS-312-TM S Type load cell with connection links x 4 KIT
Original price
$2,548.99
-
Original price
$7,499.99
LS-312-TM S type load cell with connection links could allow you to weigh products vertically & Horizontally. Similar to a traditional crane scale, our LS-312-TM Scales will allow secured connection points from the top & bottom of the load cell. 
Such a system is used in both vertical & horizontal weighing applications. Since the indictor carries a peak hold function you can use this system for testing applications as well. 
Our LS-7510-SS-C indictor carries variety of functions such as Peak hold functions, Alarm ( notification ), software integration, wireless integration, Counting features & much more! 
 Indicator specification: 
Stainless Steel casing  ( IP67 ) 
AC adapter included ( Battery included ) 
Multiple weighing units: (lb/kg); (g/oz/lb:oz) available on LCD only
Gross/Tare/Pre-Set Tare/Zero
Multiple Hold functions
Count weighing
Accumulation weighing
Overload / Underload alarm
Power saving mode
Automatic date and time update
Ability to modify gravity based on
different geographical locations 
100% manual zero range setting
Automatic error warning alarm
Splash-proof  keyboard and display
Connects to a remote display
Connects to multiple printers
NTEP approved for 5,000 divisions
Displays up to 50,000 graduations
1" LCD display with backlight
Mounting bracket and Hardware (included)
Operates on 110V AC adapter (included)
Full Duplex RS-232 Serial Port
Drives up to 6 x 350 Ω ohms load cells
Load cell Specification: 
Rate output: 3.0mV/V 
Load cell resistance: 385 Ω OHMS 
load cell cable:  50-10k lbs : 20 ft / 6m 
load cell cable: 15k-20k lbs : 40 ft / 12m 
Safe Overload: 150% F.S 
Destructive load: 300% F.S 
Excitation Recommended: 10-20V AC/DC
Operation Temperature: -4 F - 104 F
Construction Load cell: Alloy Steel