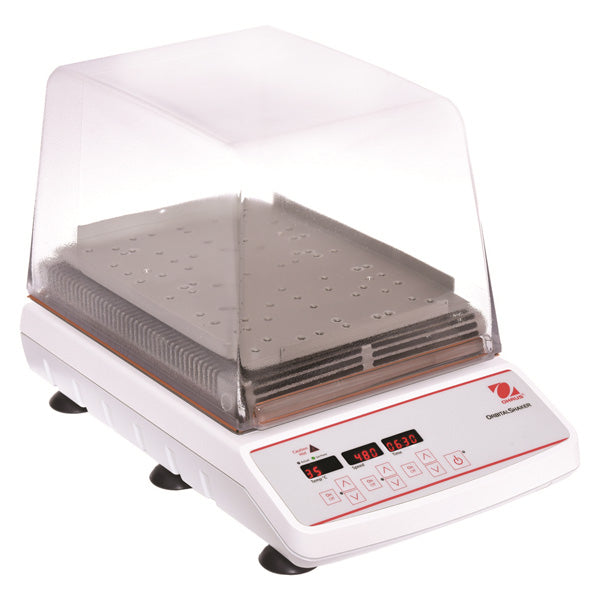 Ohaus Incubating Light Duty Orbital Shakers ISLD04HDG -120V
Original price
$3,700.00
-
Original price
$3,700.00
Introducing the Ohaus Incubating Light Duty Orbital Shakers ISLD04HDG -120V, a versatile and reliable tool designed to meet all your application needs.
With its 4 kg capacity and customizable tray, this shaker offers unparalleled flexibility.

Precision is paramount, and this shaker delivers with its user-controlled temperature calibration feature. Achieve accurate temperatures for even the most sensitive applications. The digital control ensures reliable and repeatable shaking speed, guaranteeing consistent results.

The microplate shaker is designed to accommodate up to 4 microplates or deep healthy plates, or easily install 2 microtube racks. Choose between an opaque lid for light-sensitive samples or a clear lid for convenient sample viewing.

Whether you're performing immunoassays, hybridizations, cell cultures, bacterial and yeast cultures, ELISA assays, PCR, or enzyme reactions, this shaker has covered you. The easy-to-read LED displays for temperature, speed, and time allow you to monitor all settings simultaneously for seamless operation.

Built with convenience in mind, this shaker comes with a detachable 3-wire cord and plug for easy setup. Its spill-resistant design and overload protection ensure durability and longevity. Plus, the caution hot indicator keeps you safe while handling your samples.

Constructed from cast aluminum housing with a polycarbonate lid and powered by a brushless DC motor, this shaker is built to withstand the demands of any laboratory environment.

In summary, the Ohaus Incubating Light Duty Orbital Shakers ISLD04HDG -120V epitomizes versatility, precision, and reliability.
Upgrade your lab today with this exceptional tool that guarantees outstanding results.