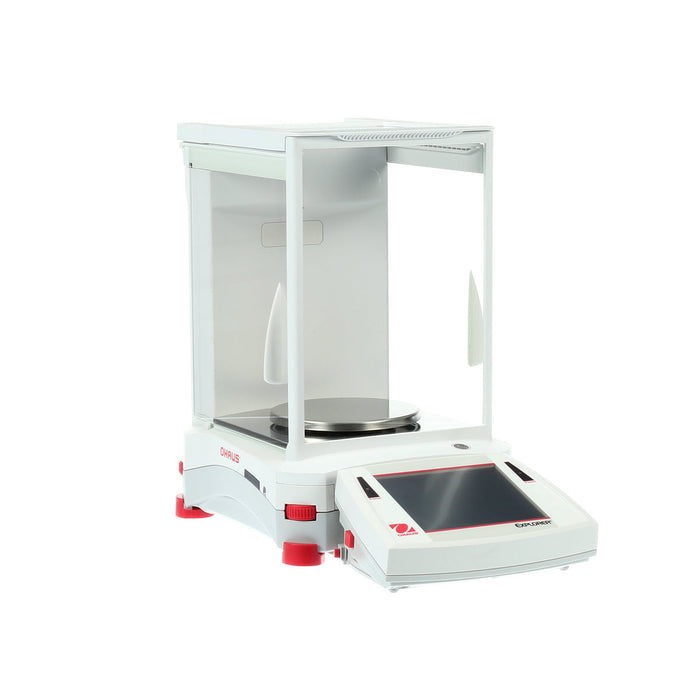 Ohaus Explorer Precision NTEP EX423N, Stainless Steel, 420g x 1mg
Original price
$4,498.00
-
Original price
$4,498.00
Introducing the Ohaus Explorer Precision NTEP EX423N Stainless Steel Balance.
With a capacity of 420g and readability of 1mg, this balance is a reliable and accurate tool for laboratory and industrial environments.


Featuring a 5.7" full-color VGA graphic touchscreen display, the EX423N allows for easy navigation and control with user-controlled brightness. The display ensures clear visibility of measurements for quick and efficient weighing.

Communication is made effortless with RS232 and USB connectivity included, while the option for a second RS232/Ethernet connection allows for enhanced data transfer capabilities (accessories sold separately). The balance also offers GLP/GMP data output with a real-time clock, providing detailed information for record-keeping and analysis.

Constructed with a metal base, ABS top housing, stainless steel pan, and glass draftshield with top-mounted side doors & flip/sliding top door (1mg models), the EX423N is built to withstand rigorous use. The illuminated up-front level indicator ensures accurate leveling, while the weigh-below hook and security bracket add convenience and stability during the weighing process.

Design features of the EX423N include selectable environmental filters, auto tare, user-selectable span calibration points, software lockout and reset menu, user-selectable communication settings and data print options, user-definable project and user IDs, auto standby, and multi-language support (up to 14 operating languages). These features allow for customization and optimization of the balance to meet specific requirements.

The balance operates using an AC adapter (included) to ensure a consistent power supply. Its precision-machined weighing cell guarantees accuracy and durability over time.

With its wide range of features and user-friendly design, the Ohaus Explorer Precision NTEP EX423N Stainless Steel Balance is the perfect choice for professionals needing a reliable weighing instrument.
Trust in Ohaus' renowned quality to deliver precise results every time.