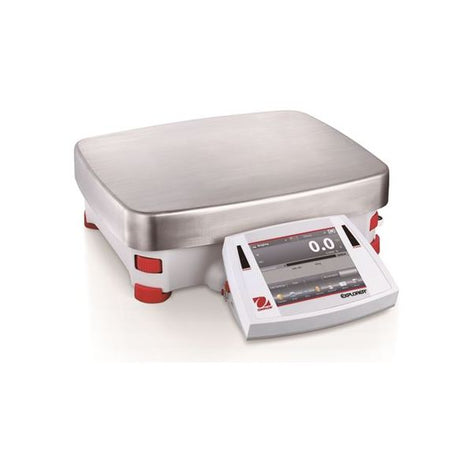 Ohaus Explorer Precision High Capacity EX24001, Stainless Steel, 24000g x 0.1g
Original price
$5,972.00
-
Original price
$5,972.00
Introducing the Ohaus Explorer Precision High Capacity EX24001 Stainless Steel Scale, a robust and reliable weighing solution for laboratory and industrial environments.
With its impressive capacity of 24,000g and readability of 0.1g, this flagship balance from OHAUS is a true game-changer.


Featuring a 5.7" full-color VGA graphic touchscreen display, the EX24001 offers a user-friendly interface with adjustable brightness control. Navigating through its functions is a breeze, guaranteeing a seamless user experience.

Communication is key, and this scale delivers on that front. Equipped with RS232 and USB connectivity (included) or a second RS232/Ethernet (accessories sold separately), you can quickly transfer data and integrate it into your workflow. The GLP/GMP data output with a real-time clock ensures accurate record-keeping, making it ideal for regulated industries.

Built to withstand demanding environments, the EX24001 boasts a modular design with an IP54 metal base and a die-cast top housing. The stainless steel pan ensures durability and longevity, while the up-front level indicator guarantees accurate measurements every time. The integral weigh below hook allows for versatile weighing options.

Designed with practicality in mind, this scale offers selectable environmental filters to ensure precise readings in any setting. The auto-tare function saves time and streamlines weighing processes. You can also customize span calibration points to suit your specific needs. Additionally, the software lockout and reset menu provide an added layer of security.

Operating the EX24001 is effortless, thanks to the AC adapter included in the package. For added convenience, you can use a rechargeable battery (accessory sold separately), allowing for portable use wherever you need it.

With its precision-machined weighing cell and AutoCal™ automatic internal calibration system, this scale delivers unrivaled accuracy and performance. The 2-D shock protection and IP54 base enclosure ensure durability and longevity, even in the harshest conditions.

Experience the convenience of a detachable terminal with a large color touchscreen and programmable IR sensors. The Ohaus Explorer Precision High Capacity EX24001 Stainless Steel Scale combines advanced technology with user-friendly features, making it the perfect choice for professionals seeking precision and reliability.
Trust in OHAUS's legacy of excellence in weighing solutions.