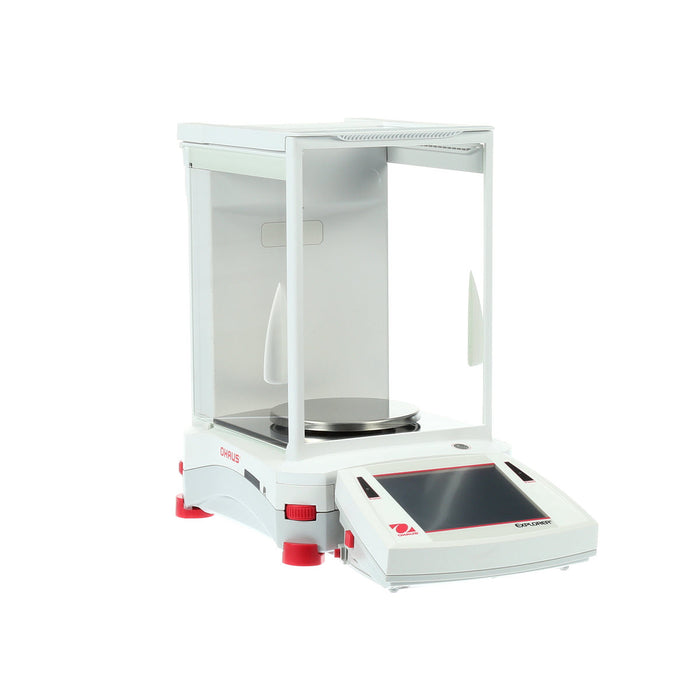 Ohaus Explorer Precision EX223, Stainless Steel, 220g x 1mg
Original price
$3,451.00
-
Original price
$3,451.00
Introducing the Ohaus Explorer Precision EX223, Stainless Steel, 220g x 1mg balance - the epitome of modernity and precision.
This high-performance balance sets the bar for laboratory measurements with its sleek design and advanced features.


Crafted with a weighing cell that is precision-machined from a solid metal block, the Explorer balance ensures unparalleled accuracy and durability, making it perfect for laboratory and industrial environments. Say goodbye to inconsistencies and hello to reliable results.

One standout feature of the Explorer Precision EX223 is its four-level user management system with password protection. This guarantees secure access and prevents unauthorized tampering. The non-editable system log also provides a clear audit trail, ensuring compliance with regulated applications.

The detachable terminal boasts a large color touchscreen that enhances user experience. With programmable IR sensors, navigating through the balance's functions becomes effortless. The frameless draft shield adds to the convenience of easy sample placement and retrieval.

The Explorer Precision EX223 is versatile enough to cater to various applications. From simple weighing tasks to percent weighing, parts counting, animal/dynamic weighing, and even density determination - this balance has covered you. It can also handle complex operations like formulation, peak hold, pipette adjustment, statistics, etc.

Equipped with a 5.7" full-color VGA graphic touchscreen display, the Explorer Precision EX223 ensures crystal-clear visibility. Adjust the brightness according to your preference for optimal viewing in any lighting condition.

Operating this balance is hassle-free, thanks to the included AC adapter. Use the RS232 and USB ports (included) for seamless data transfer and connectivity options, or opt for the second RS232/Ethernet (accessories sold separately). Real-time clock functionality enables GLP/GMP data output.

Built to last, this balance features a sturdy metal base, ABS top housing, and a stainless steel pan. The glass draft shield, equipped with top-mounted side doors and a flip/sliding top door (1mg models), provides an additional layer of protection. The illuminated up-front level indicator ensures precise leveling, while the weigh-below hook and security bracket offer added convenience and security.

Select from various environmental filters, utilize the auto tare function, and calibrate at user-defined span calibration points. The software lockout and reset menu provide additional control over settings. With user-definable project and user IDs, auto standby mode, and multi-language support (up to 14 languages), the Explorer Precision EX223 is customizable to suit your needs.

Choose the Ohaus Explorer Precision EX223 for unparalleled accuracy, durability, and convenience.
Bring precision to your laboratory measurements with this exceptional balance from Liberty Scales.