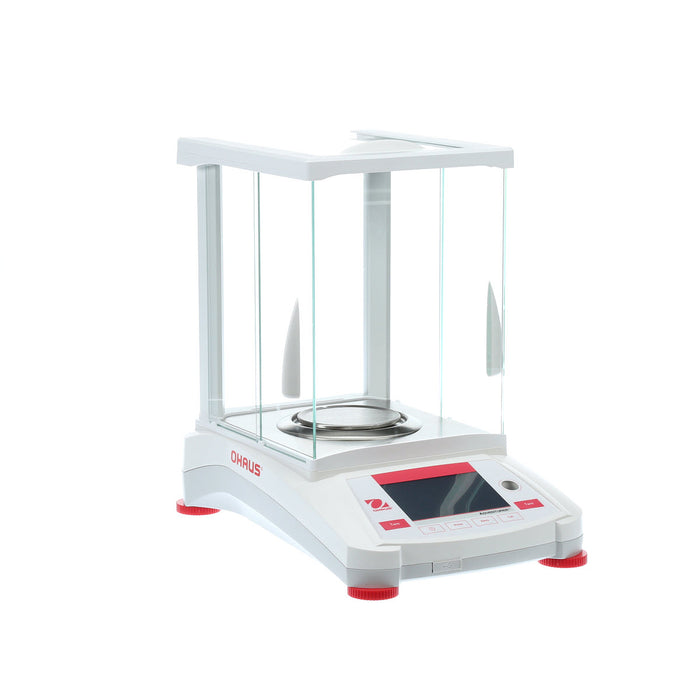 Ohaus Adventurer Analytical AX324, Stainless Steel 320 g x 0.1 mg
Original price
$4,632.00
-
Original price
$4,632.00
Striking the perfect balance between innovation and simplicity, the Ohaus Adventurer Analytical AX324 is a versatile and intuitive balance designed to meet various weighing and measurement needs.
With its impressive features and user-friendly interface, this analytical balance is ideal for routine weighing and measurement activities.
Featuring a vibrant color touchscreen and an icon-based user interface, the Adventurer balance offers effortless configuration and operation. Navigating through its functions is a breeze, thanks to its intuitive design. Whether a seasoned professional or a beginner, you'll find this balance easy to use.
One of the standout features of the Adventurer AX324 is its versatility. With specialized weighing modes and multiple connectivity options, including RS232, USB Host, and USB Device, this balance can adapt to various applications. It even offers GLP/GMP compliance capabilities with real-time clock functionality for data output.
Built to last, the Adventurer AX324 boasts a durable metal base, ABS top housing, and a stainless steel pan. Its glass draft shield with two-piece top-mounted side doors and sliding top door ensures accuracy while maintaining a clear view of the weighing surface. The illuminated up-front level indicator makes leveling quick and effortless.
The Adventurer AX324 also offers customizable features such as selectable environmental filters, auto tare, user-selectable span calibration points, and user-definable project and user IDs. With up to 9 operating languages, this balance can cater to users from various backgrounds.
Perfect for laboratories, academic institutions, and industrial environments, the Adventurer AX324 combines functionality with convenience. The large weighing surface accommodates a wide range of samples, while the space-saving draft-shield design ensures accurate measurements even in limited spaces. The full housing in-use cover also protects the balance when not in use.
The Ohaus Adventurer Analytical AX324 is more than just an analytical balance; it's a complete weighing solution.
Discover the power of precise measurements with this exceptional balance designed to meet all your weighing needs.