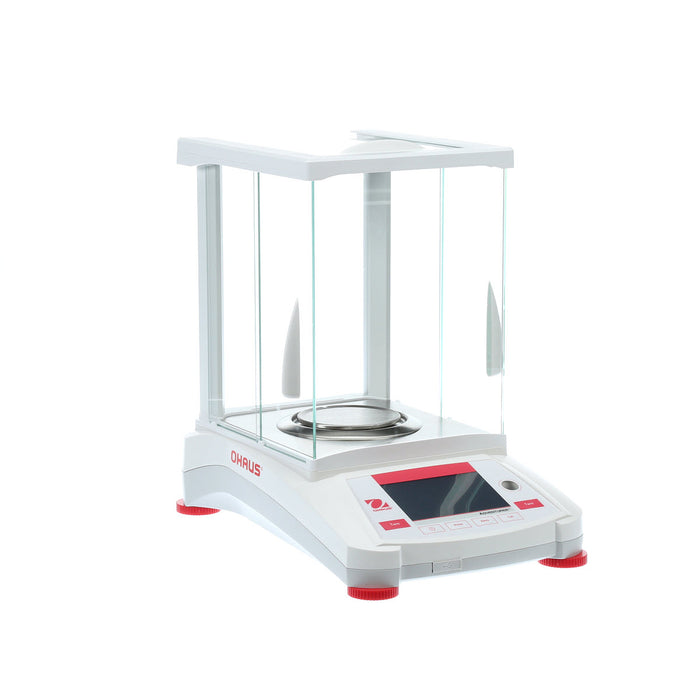 Ohaus Adventurer Precision AX223N/E, Legal For Trade, 220g x 0.001g
Original price
$2,044.00
-
Original price
$2,044.00
Introducing the Ohaus Adventurer Precision AX223N/E, Legal For Trade, 220g x 0.001g - a precision laboratory balance that combines advanced features with user-friendly design.


The Adventurer balance offers a modern and intuitive experience with its color touchscreen and icon-based user interface. Configuring and using the balance is a breeze, thanks to its ergonomic design and easy-to-navigate interface.

This versatile balance has specialized weighing modes, allowing precise measurements across various applications. Whether you're working in a lab, educational institution, or industrial environment, the Adventurer balance is built to withstand the demands of daily use. Its durable construction and large weighing surfaces ensure reliable performance for years.

The Adventurer balance offers multiple connectivity options, including RS232 and USB ports. This allows for seamless data transfer and integration with other devices. The GLP/GMP data output with a real-time clock ensures accurate record-keeping and traceability.

Featuring a metal base, ABS top housing, stainless steel pan, and glass draft shield with side doors, this balance combines durability with functionality. The illuminated up-front level indicator and weigh below hook adds convenience to your weighing process.

With selectable environmental filters, auto tare function, calibration lock, and user-definable settings, the Adventurer balance puts you in control. You can customize the balance to suit your specific needs and preferences. Additionally, the balance supports up to 9 operating languages, making it accessible to users from different regions.

The Ohaus Adventurer Precision AX223N/E is powered by an AC adapter included with the purchase. It is part of the Liberty Scales collection from Ohaus - a trusted brand known for delivering precision and accuracy in every product.

Invest in the Ohaus Adventurer Precision AX223N/E laboratory balance and experience unparalleled performance and user-friendly features.