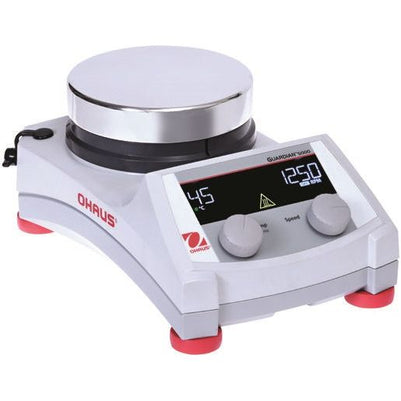 Analog Hotplate Stirrers Guardian 2000 E-G21ST07C 115V 60Hz
Original price
$280.00
-
Original price
$280.00
Introducing the Analog Hotplate Stirrers Guardian 2000 E-G21ST07C 115V 60Hz, the perfect solution for powerful stirring and fast heating in the lab.
Designed to deliver exceptional performance at an economical price, this hotplate stirrer is a reliable companion for all your everyday heating and stirring needs.

With its easy-to-use knob control, you can effortlessly adjust the stirring speed to 1600 rpm and heat up to an impressive 500°C (ceramic top) or 380°C (ceramic-coated stainless steel top). Whether boiling liquids, preparing solutions, dissolving buffers and reagents, or concentrating samples, this hotplate stirrer can handle it all with precision and efficiency.

Durability is a crucial feature of the Analog Hotplate Stirrers Guardian 2000 E-G21ST07C. Its rugged metal housing is built to withstand harsh laboratory conditions, ensuring a long lifetime of reliable performance. The spill-resistant design further enhances its durability, making it ideal for busy labs where accidents may happen. Plus, the smooth ceramic top plate is resistant to chemicals and easy to clean, saving you valuable time and effort.

Safety is paramount in any lab setting, which is why this hotplate stirrer comes equipped with a prominent hot top indicator light. This light illuminates when the heater exceeds 40°C, alerting you to potential hazards and ensuring your safety during every heating application.

The Analog Hotplate Stirrers Guardian 2000 E-G21ST07C is designed with convenience in mind. It features green indicator lights illuminating when the unit is heating and stirring, providing clear visual cues for easy monitoring. The simple knob control allows for effortless operation, while the included power cord ensures hassle-free setup. For stirring models, a PTFE-coated stir bar is also included.

Experience the power and reliability of the Analog Hotplate Stirrers Guardian 2000 E-G21ST07C. Whether you're a researcher, scientist, or student, this hotplate stirrer is the perfect addition to your laboratory.
Invest in quality and performance today.