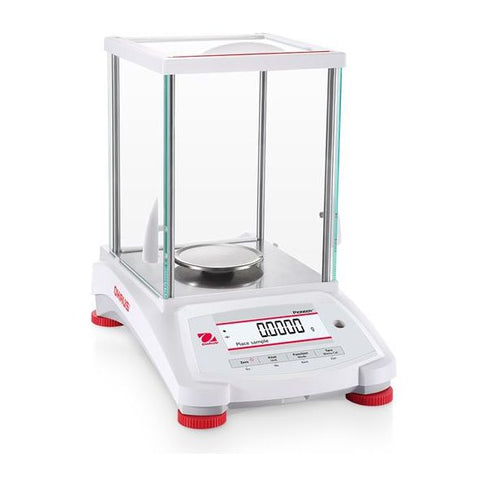 Ohaus Pioneer Analytical PX124, Stainless Steel, 120g x 0.0001g
Original price
$2,843.00
-
Original price
$2,843.00
Introducing the Ohaus Pioneer Analytical PX124, Stainless Steel, 120g x 0.0001g - a precision instrument that combines essential weighing functionality with exceptional performance.
Whether in a laboratory, industrial, or educational setting, this analytical balance delivers high accuracy and repeatability to meet your weighing needs.


Designed with affordability, the PX124 offers outstanding value without compromising on quality. Its intuitive design ensures intelligent operation, making it a reliable choice for professionals seeking precision and efficiency.

Built to last, the PX124 features a cast metal lower housing, a sub-pan, and a durable stainless steel weighing pan. This robust construction ensures longevity and versatility, allowing you to rely on this balance for years.

With its second-line display, the PX124 provides additional information or guidance, enhancing your weighing experience. The backlit Liquid Crystal Display (LCD) ensures easy readability even in low-light environments. The balance also has a static removal bar for convenient grounding and USB connectivity for seamless communication.

The PX124 is not just about accuracy and durability; it offers a range of features that enhance usability and flexibility. User-selectable environmental filters and brightness settings allow you to customize the display according to your preferences. The auto-tare and auto-dim functions simplify your workflow, while the user-selectable span calibration points ensure accurate measurements every time.

Connectivity is made easy with the RS232 and USB device included with the balance. You can conveniently transfer data to your computer or other devices for record-keeping or further analysis. The balance also supports GLP/GMP data output with real-time clock functionality.

Constructed with convenience in mind, the PX124 comes with a metal base, plastic top housing, removable stainless steel pan, glass draft shield, integrated weigh-below-hook, security bracket, calibration lock, and an in-use cover. These design features ensure ease of use and provide added security for your weighing operations.

The Ohaus Pioneer Analytical PX124 is the affordable balance that delivers reliable results, making it the ideal choice for professionals needing accurate and precise measurements. With its intuitive operation and durable construction, this analytical balance is valuable in any laboratory, industrial, or educational setting.
Choose the PX124 to experience exceptional performance and uncompromising quality.