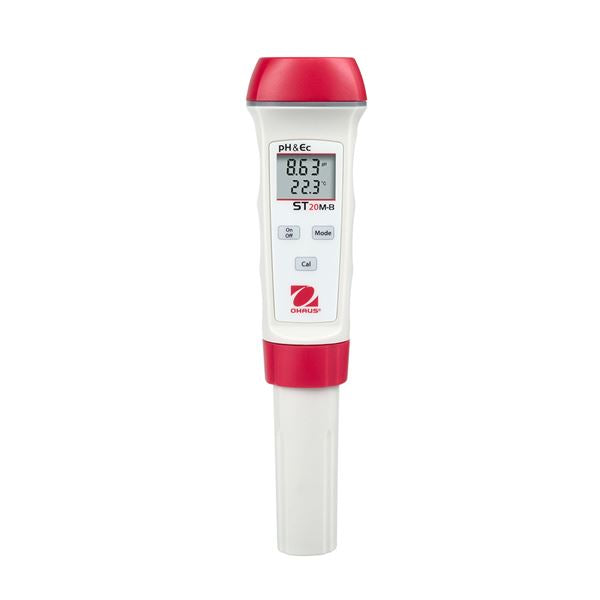 Ohaus Statrter Pen Meter ST20M-B, 0 – 1999 μs/cm;0.0 – 1000 mg/L, ± 0.05 ph
Original price
$158.00
-
Original price
$158.00
Introducing the Ohaus Starter Pen Meter ST20M-B, the ultimate companion for accurate measurements in various applications.
This small and economical pen meter offers a simple, fast, and straightforward operation that ensures precise results every time.

With its durable IP67 waterproof ABS housing, the Ohaus Starter Pen Meter ST20M-B is built to withstand even the roughest and wettest environments. Whether you're working in a laboratory, field, or industrial setting, this pen meter can handle it all. The protective sensor cap further enhances its durability, keeping the sensitive components safe from damage.

Accidental drops are no longer a worry with the wrist strap that comes included with the pen meter. This handy feature prevents any mishaps that could lead to costly repairs or replacements. You can focus on your work with peace of mind, knowing that your Ohaus Starter Pen Meter ST20M-B is securely attached.

This versatile pen meter covers a wide range of measurements, including pH, oxidation-reduction potential (ORP), conductivity, dissolved oxygen (DO), salinity, total dissolved solids (TDS), and temperature. Its liquid crystal display (LCD) provides precise readings, and select models even feature a secondary information line for added convenience.

The Ohaus Starter Pen Meter ST20M-B is powered by four 1.5V batteries that are included with your purchase. These batteries ensure long-lasting performance, allowing you to rely on your pen meter for extended periods without worrying about running out of power.

Featuring quickly replaceable electrodes and an automatic shut-off feature, this pen meter is designed with user convenience in mind. You can quickly replace worn-out electrodes without any hassle, and the automatic shut-off feature helps conserve battery life when the pen meter is not in use.

Choose the Ohaus Starter Pen Meter ST20M-B for accurate measurements that you can trust. With its rugged construction, user-friendly design features, and wide range of applications, this pen meter is the perfect tool for professionals in various fields.
Don't compromise on quality – invest in the Ohaus Starter Pen Meter ST20M-B today and experience precision like never before.