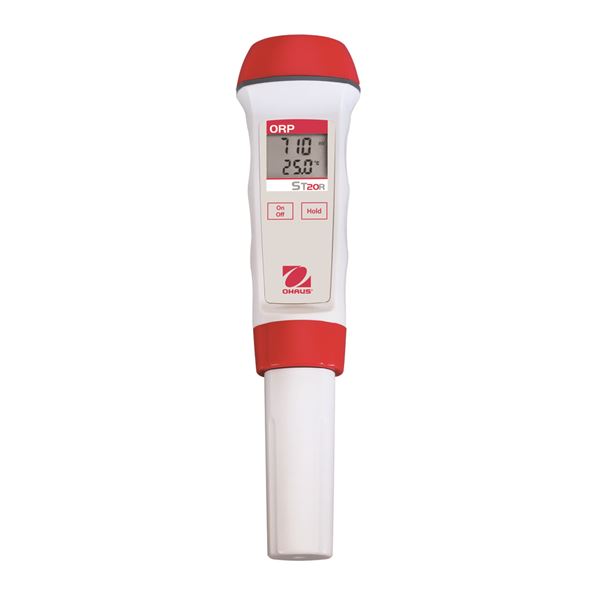 Ohaus Starter Pen Meter ST20R, -1000 – 1000 mV, ± 2 mV / ± 0.5 °C
Original price
$207.00
-
Original price
$207.00
Introducing the Ohaus Starter Pen Meter ST20R, the perfect companion for all your pH, oxidation-reduction potential (ORP), conductivity, dissolved oxygen (DO), salinity, total dissolved solids (TDS), and temperature measurement needs.
With its small, economical design, this pen meter offers simple, fast, and straightforward operation, making it ideal for both professionals and hobbyists alike.

Crafted with a durable IP67 waterproof ABS housing, the Ohaus Starter Pen Meter ST20R can withstand even the roughest and wettest environments. Whether you're working in a laboratory or out in the field, this pen meter is built to last. The protective sensor cap ensures that the electrodes stay safe and secure during transportation or when not in use.

Worried about accidental drops? Don't be! The Ohaus Starter Pen Meter ST20R comes equipped with a convenient wrist strap, providing an added layer of security and preventing any potential damage.

Featuring a liquid crystal display (LCD) with a secondary information line on select models, this pen meter provides clear and easy-to-read measurements. The display ensures that you get all essential data and readings while using the device.

Powered by four 1.5V batteries (included), the Ohaus Starter Pen Meter ST20R is ready to use right out of the box—no need to worry about running out of power during critical measurements. Plus, with its automatic shut-off feature, you can conserve battery life when the pen meter is not in use.

One of the standout features of this pen meter is its easily replaceable electrodes. When it's time to replace them, swap them out with ease and continue using your pen meter without any interruptions.

The Ohaus Starter Pen Meter ST20R is the ultimate tool for accurate and reliable measurements. Whether you're conducting experiments in a laboratory or analyzing water quality in the field, trust Ohaus to deliver exceptional performance.
Get your hands on the Ohaus Starter Pen Meter ST20R and experience precision at your fingertips.