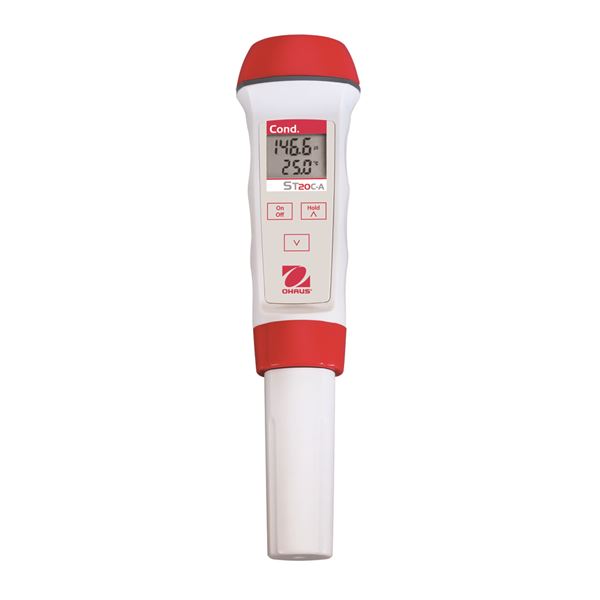 Ohaus Starter Pen Meter ST20C-A, 0.00 – 199.9 μs/cm;0.0 – 99.0 °C, ± 1.5% / ± 0.5 °C
Original price
$139.00
-
Original price
$139.00
Introducing the Ohaus Starter Pen Meter ST20C-A, the perfect companion for accurate and efficient measurements.
 This small and economical pen meter offers a simple, fast, and straightforward operation that will streamline your testing process.

Crafted with a durable IP67 waterproof ABS housing, the ST20C-A is designed to withstand even the harshest of environments. Whether you're working in a wet laboratory or conducting field research, this pen meter will continue to deliver reliable results. The protective sensor cap ensures that the electrodes remain intact and free from damage, further extending the lifespan of this exceptional device.

Accidental drops are a thing of the past with the Ohaus Starter Pen Meter ST20C-A. Equipped with a convenient wrist strap, you can confidently carry it around without worrying about any mishaps. Its compact and lightweight design makes it highly portable, allowing you to take it anywhere your work demands.

Versatile and multi-functional, this pen meter is capable of measuring pH, oxidation-reduction potential (ORP), conductivity, dissolved oxygen (DO), salinity, total dissolved solids (TDS), and temperature. With its liquid crystal display (LCD) and secondary information line on select models, you'll have all the necessary data at your fingertips.

The Ohaus Starter Pen Meter ST20C-A operates on four 1.5V batteries, which are included with your purchase. This ensures that you can start using it right out of the box without any hassle or delay. Plus, it features an automatic shut-off feature that helps conserve battery life, making it an energy-efficient choice.

Designed for convenience and ease of use, this pen meter boasts easily replaceable electrodes. This means that when your electrodes wear out or require calibration, you can effortlessly replace them without having to invest in an entirely new device.

Choose the Ohaus Starter Pen Meter ST20C-A for accurate measurements and exceptional durability. Discover why professionals in the field trust Ohaus for their testing needs.
Don't compromise on quality - invest in a pen meter that delivers consistent and reliable results every time.