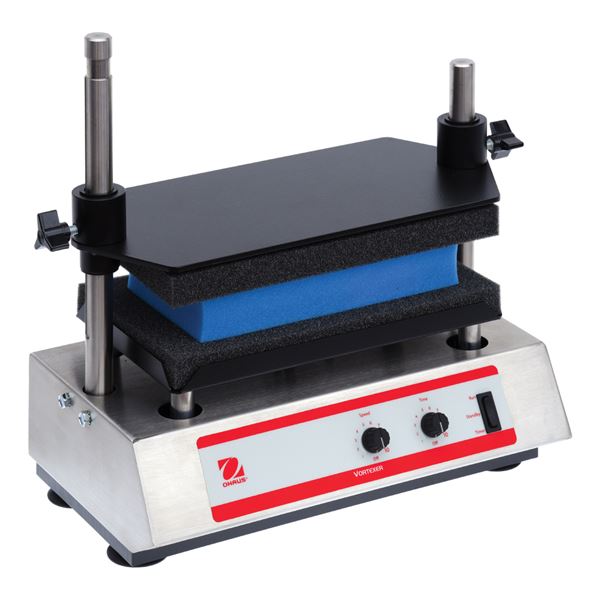 Ohaus Multi-Tube Vortex Mixers VXMTAL. 9.92 lbs - 120V
Original price
$3,560.00
-
Original price
$3,560.00
Introducing the Ohaus Multi-Tube Vortex Mixers VXMTAL - the ultimate solution for efficient and customizable sample processing.
With the ability to handle up to 50 samples simultaneously, this vortex mixer is a game-changer in the laboratory.

Designed with versatility, the Multi-Tube Vortex Mixer offers six tube racks and a post-extension kit, allowing you to tailor it to your specific application. Whether working with suspensions, genotyping, or conducting high throughput DNA and RNA testing in clinical labs, this mixer has covered you.

Choose between two housing options: an easy-to-clean one-piece stainless steel housing for clean rooms or a painted steel version that offers a more economical alternative. Whichever option you select, you can trust in its durability and reliability.

For those challenging samples that require extra agitation, the programmable pulse mode on the digital models will come to your rescue. With adjustable pulse-on/pulse-off time intervals, you can customize the operation to achieve the perfect mix every time.

With independent LED displays for speed and time, the operator can monitor both settings simultaneously on the digital models. This ensures precise control and eliminates any guesswork during operation.

The Multi-Tube Vortex Mixer also boasts a detachable 3-wire cord and plug, providing convenience and ease of use. No more struggling with tangled cables or limited mobility.

Included with this vortex mixer is a stainless steel foam rack that accommodates 50 tubes with a diameter of 12 mm. Additionally, interchangeable foam racks are available for vortexing tubes ranging from 10 to 29 mm in diameter. This versatility allows you to adapt to various sample sizes effortlessly.

Experience the power and efficiency of the Ohaus Multi-Tube Vortex Mixers VXMTAL. Whether working in a clinical lab or conducting research in a clean room, this mixer will revolutionize your sample processing workflow. Don't settle for anything less than excellence.
Choose Ohaus.