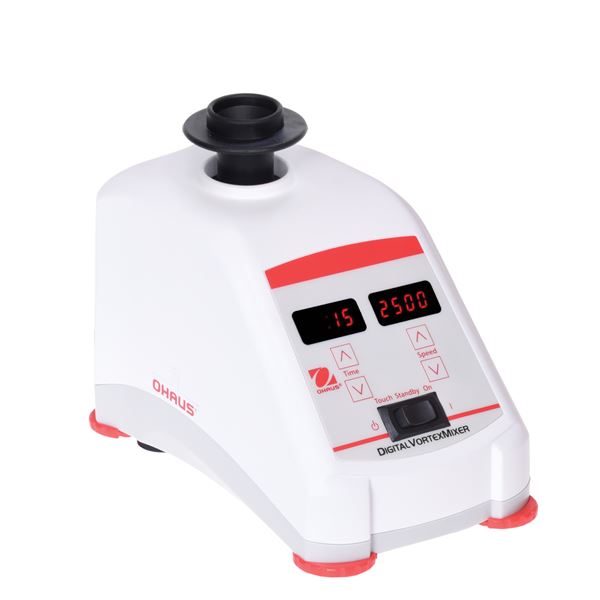 Ohaus Mini Vortex Mixers VXMNDG. 9.7 lbs - 120V
Original price
$491.00
-
Original price
$491.00
Introducing the Ohaus Mini Vortex Mixers VXMNDG, the perfect companion for all your mixing needs.
Weighing in at just 9.7 lbs, this compact and portable mixer is a performance powerhouse.

With its touch mode operation, simply depress the cup head to activate the mixing action or switch to continuous mode for use with accessory attachments. No matter the task, this mixer stays securely in place thanks to its sturdy and rugged design.

Experience effective speed control like never before with the Ohaus Mini Vortex Mixers. Whether you need gentle shaking or vigorous vortexing, these mixers deliver it all. With their robust digital and non-digital options, you can easily adjust the speed from low RPM for delicate samples to high-speed mixing for more demanding applications.

For those who require high-speed mixing without compromising on simplicity, the Fixed Speed Vortex Mixer is the perfect choice. With its full-speed mixing capability, repetitive sample processing becomes a breeze.

The Ohaus Mini Vortex Mixers are versatile tools suitable for various applications. From re-suspending liquids and mixing reagents to performing ELISA assays and drug extractions, these mixers have got you covered.

Featuring independent LED displays for speed and time settings (digital models), you can conveniently monitor both parameters simultaneously. The analog models have an adjustment knob and dial markings for precise variable speed control.

Designed for convenience, these mixers come with a detachable 3-wire cord and plug, ensuring easy setup and portability.

The Ohaus Mini Vortex Mixers include a cup head and a 3-inch accessory platform that can accommodate beakers, flasks, test tubes, and more. Additionally, the pulsing models feature a stainless steel microtube holder capable of accommodating 12 lines.

With microprocessor control (digital models) maintaining a consistent mixing action at the set speed, you can trust these mixers to deliver reliable results. The 230V models offer a maximum speed of 2500 rpm, ensuring efficient mixing every time.

Choose the Ohaus Mini Vortex Mixers VXMNDG and experience the perfect blend of power, versatility, and simplicity in your mixing tasks.
Trust in their performance and watch your samples mix with precision and efficiency.