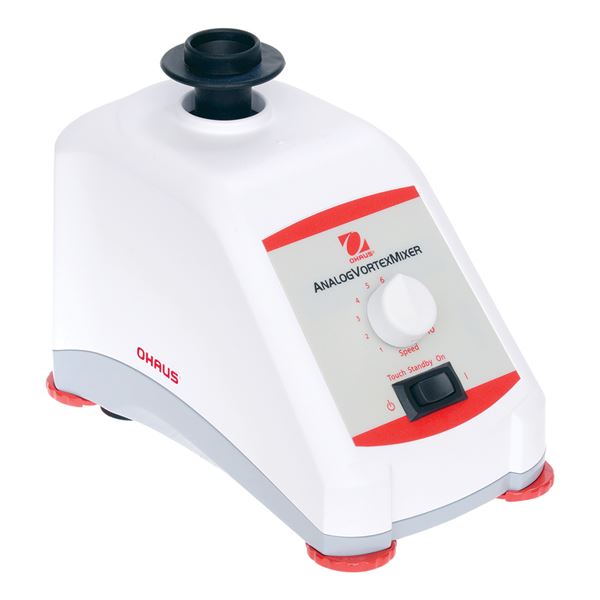 Ohaus Mini Vortex Mixers VXMNAL. 9.7 lbs - 120V
Original price
$382.00
-
Original price
$382.00
Introducing the Ohaus Mini Vortex Mixer VXMNAL. 9.7 lbs - 120V, a versatile and powerful tool designed to streamline your laboratory processes.
With its touch mode operation and sturdy construction, this mixer is an essential addition to any scientific workspace.

The Mini Vortex Mixer features two modes of operation: touch mode and continuous mode. In touch mode, depress the cup head to activate the mixing action. This hands-free operation allows for effortless mixing of reagents, buffers, and emulsions. Alternatively, in continuous mode, you can attach accessory attachments for more specialized mixing needs.

Engineered with a robust design, this vortex mixer offers effective speed control ranging from low RPM for gentle shaking to high-speed mixing for vigorous vortexing. Its versatility makes it ideal for applications such as re-suspending liquids, ELISA assays, drug extractions, and sample mixing.

One of the standout features of the Mini Vortex Mixer is its user-friendly interface. The independent LED displays for speed and time allow you to monitor both settings simultaneously, ensuring precise control over your mixing process. Additionally, the adjustable speed control knob on analog models provides seamless variable speed adjustments.

Constructed conveniently, the Mini Vortex Mixer has a detachable 3-wire cord and plug for easy setup and portability. The package includes a cup head and a 3-inch accessory platform suitable for beakers, flasks, test tubes, and more. For those working with microtubes, the pulsing models also come with a stainless steel microtube holder capable of accommodating 12 lines.

With its microprocessor-controlled technology (digital models), the Mini Vortex Mixer maintains a consistent mixing speed throughout your experiments. This ensures reliable and reproducible results every time you use it.

Invest in the Ohaus Mini Vortex Mixer VXMNAL. 9.7 lbs - 120V and experience the efficiency and precision it brings to your laboratory work.
Whether mixing reagents, performing ELISA assays, or extracting drugs, this robust and versatile mixer will be your trusted companion.