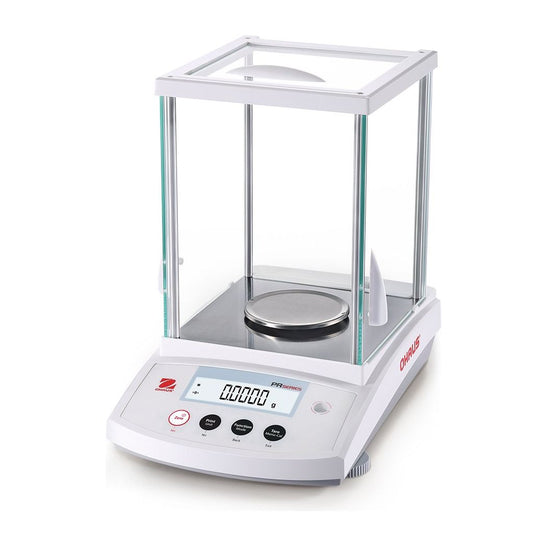 Ohaus 3.5" PR Series Analytical Balances PR64/E 62g x 0.0001g
Original price
$1,723.00
-
Original price
$1,723.00

Introducing the Ohaus 3.5" PR Series Analytical Balances PR64/E 62g x 0.0001g, a must-have for accuracy and precision in weighing applications.
Whether you're in a laboratory, industrial, or educational setting, this analytical balance offers exceptional performance at an affordable price.


With its RS232 connectivity, data transfer and storage are made effortless. The backlit display and user-friendly interface ensure a seamless and uncomplicated operation, making the PR perfectly designed for any workplace.

Equipped with three essential weighing modes, including internal calibration in select models, the PR is ideal for routine weighing applications. Its easy-to-read backlit liquid crystal display guarantees clear visibility in any lighting condition.

The PR's compact size saves valuable desktop space while providing a spacious weighing surface. Its durable construction and stainless steel pan can withstand the demands of day-to-day use in the workplace. This balance is built to last.

Designed with user convenience, the PR features user-selectable environmental filters and brightness settings to adapt to your specific needs. The auto-tare and auto-dim functions make weighing even more efficient. You can control the balance's settings and parameters with software lockout and reset menu options.

The PR comes complete with an AC adapter for seamless operation. The ABS top housing ensures durability, while the removable stainless steel pan and glass draft shield with sliding top door facilitate easy cleaning and maintenance.

Experience accuracy, reliability, and ease of use with the Ohaus 3.5" PR Series Analytical Balances PR64/E 62g x 0.0001g. Whether conducting experiments, performing quality control checks, or teaching students about precision measurements, this analytical balance is your trusted companion.