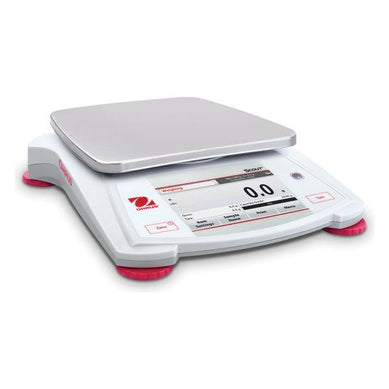 Ohaus 6.7"x5.5" STX Series Portable Balances STX6201 6,200 g x 0.1 g
Original price
$1,228.00
-
Original price
$1,228.00
Introducing the Ohaus 6.7"x5.5" STX Series Portable Balances STX6201, a reliable and efficient weighing solution for all your needs.
With its impressive maximum capacity of 6200g and readability of 0.1g, this portable balance offers precision and accuracy like no other.

What sets the STX6201 apart is its large, intuitive color touchscreen display. This user-friendly feature makes operation a breeze, guiding you through each step of the weighing application. Say goodbye to complicated processes and hello to simplicity and efficiency.

Equipped with advanced weighing technology, the STX6201 boasts a remarkable one-second stabilization time. This means you can increase your productivity by reducing waiting times. No more wasting precious minutes on slow measurements - get instant results and keep moving forward.

The versatility of the SCOUT™ STX series shines through with a wide range of applications. Whether you need to weigh, count parts, determine percentages, check weights, or even weigh animals dynamically, this portable balance has covered you. It also offers totalization, density determination, display hold, and even mole consideration.

Designed for convenience and durability, the STX6201 features an ABS housing and a stainless steel pan. The stackable design includes a storage cover (excluding 1mg models), making it easy to store and transport. The adjustable levelling feet ensure stability, while the illuminated up-front level indicator makes leveling a breeze.

For added flexibility, the STX6201 offers multiple communication options such as RS232, USB Host, USB Device, Ethernet, or Bluetooth™ (available as an accessory). You can power it up using the included AC adapter or 4 AA batteries (not included). It also has a manual calibration lock switch for your peace of mind.

With features like stability indicator, overload/underload protection, low battery indicator, auto shut-off, auto tare, and span calibration mass included, the STX6201 is a reliable companion for all your weighing needs.

Experience the freedom of precise and efficient weighing with the Ohaus 6.7"x5.5" STX Series Portable Balances STX6201.
Order yours today and see the difference it can make in your laboratory or workspace.