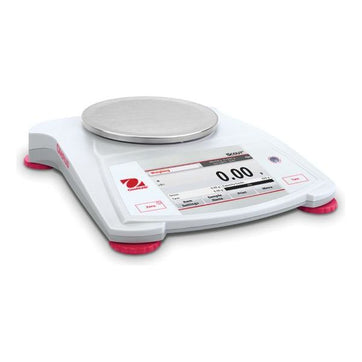 Ohaus 4.7 " STX Series Portable Balances STX422 420 g x 0.01 g
Original price
$1,014.00
-
Original price
$1,014.00
Introducing the Ohaus 4.7" STX Series Portable Balances STX422, the perfect companion for all your weighing needs.
With a maximum capacity of 420g and a readability of 0.01g, this portable scale offers precision and accuracy like no other.

The standout feature of the Ohaus STX422 is its large, intuitive, color touchscreen display. This advanced technology not only provides a clear and vibrant visual experience but also makes operation a breeze. With its user-friendly interface, it guides you through every step of the weighing application, ensuring error-free results.

Thanks to its cutting-edge weighing technology, the Ohaus STX422 boasts an impressive one-second stabilization time. This rapid response time not only enhances productivity but also saves you valuable time in your daily tasks. Say goodbye to waiting around for your measurements to stabilize and hello to increased efficiency.

The Ohaus STX422 is not just a scale; it's a versatile tool that caters to various applications. Whether you need to weigh objects, count parts, determine percentages, or check weights, this portable balance has got you covered. It can even handle dynamic weighing for animals and density determination.

Designed with convenience in mind, the Ohaus STX422 offers multiple power options. You can either use the included AC adapter or opt for four AA batteries (not included) when you're on the go. Additionally, it offers flexible communication options such as RS232, USB Host, USB Device, Ethernet, or Bluetooth™ (available as an accessory).

Durability is another key attribute of the Ohaus STX422. Its ABS housing and stainless steel pan ensure long-lasting performance even in demanding environments. The ABS draftshield provides added protection for precise measurements in 1mg models. With features like a transportation lock, adjustable leveling feet, and an illuminated up-front level indicator, this portable balance is designed to make your weighing tasks hassle-free.

In conclusion, the Ohaus 4.7" STX Series Portable Balances STX422 is the epitome of reliability and convenience. Its exceptional features, sleek design, and user-friendly interface make it a must-have for laboratories, research facilities, and any setting where precise weighing is essential.
Choose the Ohaus STX422 and experience the liberty of accurate measurements.