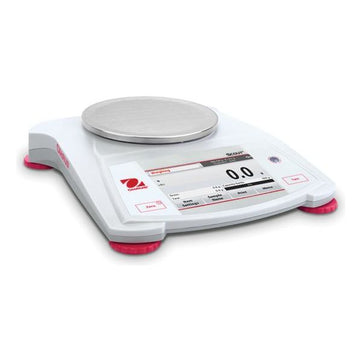 Ohaus 4.7" STX Series Portable Balances STX421 420 g x 0.01 g
Original price
$410.00
-
Original price
$410.00
Introducing the Ohaus 4.7" STX Series Portable Balances STX421, the ultimate weighing solution for your laboratory needs.
With a maximum capacity of 420g and a readability of 0.01g, this portable scale is designed to deliver accurate and precise results every time.

The standout feature of the STX421 is its large, intuitive, color touchscreen display. This user-friendly interface allows for easy operation, guiding you through every step of the weighing application with clarity and simplicity. Say goodbye to complicated menus and hello to effortless weighing.

But it's not just about ease of use - the advanced weighing technology of the STX421 ensures lightning-fast stabilization time, taking only one second to provide you with stable and reliable measurements. This means increased productivity and less time wasted waiting for results.

The versatility of the STX421 is unmatched. Whether you need to perform parts counting, percent weighing, check weighing, animal/dynamic weighing, totalization, density determination, display hold, or even mole weighing, this portable balance has got you covered.

Constructed with precision and durability in mind, the STX421 features an ABS housing, stainless steel pan, ABS draftshield (1mg models only), weigh below hook, transportation lock, manual calibration lock switch, security slot, adjustable leveling feet, and an illuminated up-front level indicator. It's built to withstand the demands of a busy laboratory environment.

For added convenience, the STX421 can be powered either by the included AC adapter or 4 AA batteries (not included). It also offers various communication options including RS232, USB Host, USB Device, Ethernet or Bluetooth™ (available as an accessory), ensuring seamless integration into your existing setup.

With its stability indicator, stackable design (with included storage cover), overload/underload protection, low battery indicator, auto shut-off, auto tare function, and span calibration mass included on models up to 620g capacity, the STX421 offers a comprehensive and reliable weighing solution.

Choose the Ohaus 4.7" STX Series Portable Balances STX421 for accurate, efficient, and hassle-free weighing.
Get yours today and experience the difference in your laboratory workflow.