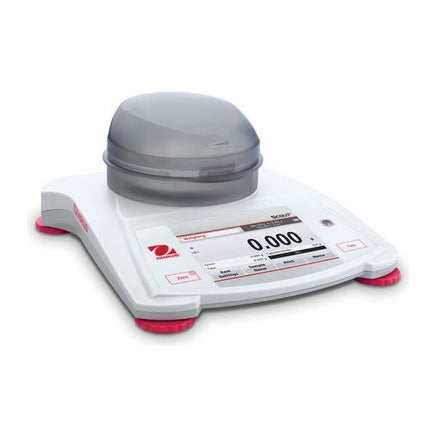 Ohaus 3.7" STX Series Portable Balances STX223 120 g x 0.001 g
Original price
$1,104.00
-
Original price
$1,104.00
Introducing the Ohaus 3.7" STX Series Portable Balances STX223, a game-changer in the world of weighing applications.
With a maximum capacity of 120 g and a readability of 0.001 g, this portable scale is designed to deliver accurate and precise measurements every time.

One of the standout features of this device is its large, intuitive, color touchscreen display. Measuring 3.7 inches (93 mm), it not only provides a clear view of the weighing results but also guides users through each step of the weighing process. Say goodbye to confusion and hello to effortless operation.

Thanks to its advanced weighing technology, the Ohaus STX223 boasts an impressive one-second stabilization time. This means you can increase your productivity by minimizing waiting time and getting immediate results. Whether you're weighing, parts counting, percent weighing, or even performing animal/dynamic weighing, this portable balance has got you covered.

The 4.3-inch (109 mm) full-color VGA graphic touchscreen display offers user-controlled brightness for optimal visibility in any lighting condition. Plus, you have the flexibility to choose between AC power or battery operation (4 AA batteries not included), ensuring uninterrupted usage wherever you go.

Constructed with durability in mind, the Ohaus STX223 features an ABS housing and a stainless steel pan that can withstand heavy usage without compromising accuracy. It also comes with an ABS draftshield (1 mg models only), weigh below hook, transportation lock, manual calibration lock switch, security slot, adjustable leveling feet, and an illuminated up-front level indicator.

With its stability indicator and mechanical/software overload/underload protection, this portable balance guarantees reliable performance every time. It even includes a span calibration mass on models up to 620 g capacity for added convenience.

Whether you're working in a laboratory or require a portable scale for your specific needs, the Ohaus 3.7" STX Series Portable Balances STX223 is the perfect solution. Trust in its accuracy, efficiency, and user-friendly design to revolutionize your weighing experience.
Get yours today and experience the future of weighing technology.