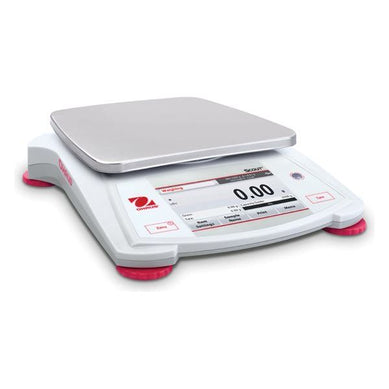 Ohaus 5.5" STX Series Portable Balances STX2202 2,200 g x 0.01 g
Original price
$1,515.00
-
Original price
$1,515.00
Introducing the Ohaus 5.5" STX Series Portable Balances STX2202 2,200 g x 0.01 g - the ultimate precision weighing solution for all your needs.
With its sleek design and advanced features, this portable balance is a must-have for laboratories, research facilities, or any environment that demands accuracy and efficiency.

Equipped with a large, intuitive, color touchscreen display, this portable balance offers seamless operation and guides users through every step of the weighing application. Say goodbye to complicated interfaces and hello to simplicity and ease of use. With just a few taps on the screen, you can navigate through various weighing modes like weighing, parts counting, percent weighing, check weighing, animal/dynamic weighing, totalization, density determination, display hold, and even mole weighing.

Thanks to its advanced weighing technology, this balance boasts an impressive one-second stabilization time. This means you can achieve faster results and increase your productivity without compromising accuracy. No more waiting around for readings to stabilize - get instant measurements every time.

The 5.5" STX Series Portable Balances STX2202 is designed for versatility. It features a sturdy ABS housing and a stainless steel pan that can handle up to 2,200 grams of weight with a readability of 0.01 grams. The adjustable leveling feet ensure stability while the illuminated up-front level indicator allows for easy leveling adjustments.

Whether you're in the lab or on the go, this portable balance offers multiple power options. Use the included AC adapter for continuous power supply or rely on 4 AA batteries (not included) when you're in a remote location. Plus, with its stackable design and included storage cover (excluding 1mg models), you can easily transport and protect your balance wherever you need it.

Invest in the Ohaus 5.5" STX Series Portable Balances STX2202 2,200 g x 0.01 g and experience the perfect blend of accuracy, convenience, and durability. Don't settle for anything less when it comes to your weighing needs.
Order yours today and take your weighing capabilities to new heights with Liberty Scales - your trusted partner in precision measurement.