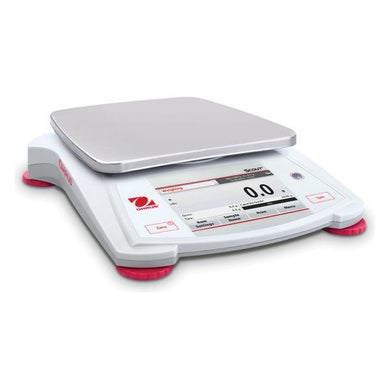 Ohaus 6.7"x5.5" STX Series Portable Balances STX2201 2,200 g x 0.1 g
Original price
$777.00
-
Original price
$777.00
Introducing the Ohaus 6.7"x5.5" STX Series Portable Balances STX2201 2,200 g x 0.1 g, a reliable and versatile weighing solution for all your needs.
With its advanced features and user-friendly design, this portable balance is perfect for laboratories, scientific research, and industrial applications.

Experience the convenience of the large, intuitive color touchscreen display that guides you through every step of the weighing process. Say goodbye to complicated operations as this balance simplifies your workflow, saving you time and increasing productivity. With one second of stabilization time, you can complete your weighing tasks swiftly and efficiently.

The Ohaus 6.7"x 5.5" STX Series Portable Balances STX2201 offers many applications to meet your diverse weighing requirements. This balance has covered you, whether weighing, parts counting, percent weighing, check weighing, animal/dynamic weighing, totalization, density determination, display hold, or mole weighing.

Equipped with a 4.3" full-color VGA graphic touchscreen display, you have complete control over brightness settings to ensure optimal visibility in any environment. Powered by an AC adapter (included) or 4 AA batteries (not included), this balance provides flexible operation options.

Connectivity is easy with multiple communication interfaces, including RS232, USB Host, USB Device, Ethernet, or Bluetooth™ (available as an accessory). The sturdy construction features an ABS housing and a stainless steel pan for long-lasting durability. The ABS draft shield (only available in 1mg models) ensures accurate measurements even in challenging environments.

With its stability indicator and stackable design with an included storage cover (excluding 1mg models), this balance offers added convenience and space-saving capabilities. It also includes mechanical and software overload/underload protection for reliable performance.

The Ohaus 6.7"x5.5" STX Series Portable Balances STX2201 comes with additional features such as a low battery indicator, auto shut-off, auto tare, and a span calibration mass (for models up to 620g capacity) to further enhance usability.

Invest in the Ohaus 6.7"x5.5" STX Series Portable Balances STX2201 and experience precise and efficient weighing like never before. Whether in a laboratory, academic institution, or industrial setting, this portable balance is your ultimate weighing companion.
Trust in the quality and reliability of Ohaus, a leading brand in laboratory balances and scales.