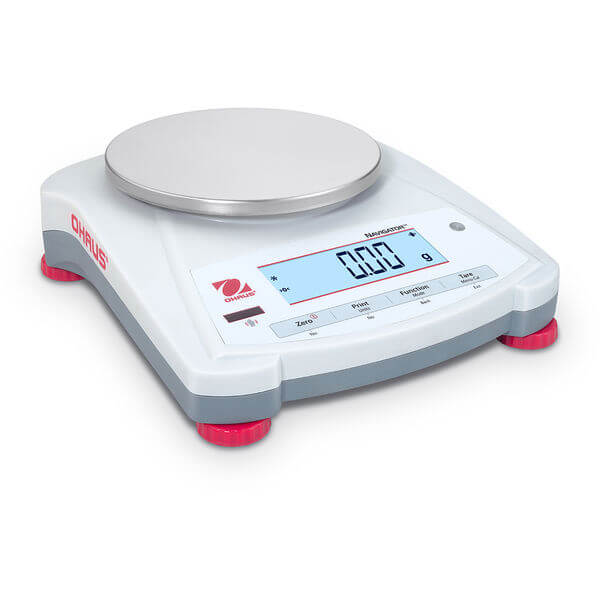 Ohaus 5.7"x NV Series Portable Balances NV622 620 g x 0.01 g
Original price
$592.00
-
Original price
$592.00
Introducing the Ohaus 5.7"x NV Series Portable Balances NV622, the perfect companion for all your weighing needs.
With its advanced technology and competitive price point, the Navigator offers essential weighing applications at an unbeatable value.

Featuring a maximum capacity of 620 g and a readability of 0.01 g, this portable balance delivers fast and accurate weighing results in just one second. Say goodbye to long waiting times and hello to improved operator efficiency, productivity, and throughput.

One of the standout features of the Ohaus NV622 is its overload protection system. Designed to withstand loads up to four times its rated capacity, this balance ensures optimal performance even under heavy usage. You can trust that your precious samples are safe and secure with this robust protection mechanism.

The Ohaus NV622 is not just about performance; it also offers convenience and versatility. Equipped with a liquid crystal display (LCD) with backlight, reading measurements are effortless in any lighting condition. Plus, you have the option to power it using an AC adapter (included) or 4 C batteries (not included), making it suitable for both indoor and on-the-go use.

This portable balance also provides multiple communication options to suit your needs. With RS232, USB, or Ethernet connectivity available as accessories, you can quickly transfer data to your computer or other devices for further analysis.

Built to last, the Ohaus NV622 boasts a durable ABS housing and a stainless steel pan. Its transportation lock ensures safe travel, while the slip-resistant and adjustable feet guarantee stability during weighing operations. The levelling bubble further enhances accuracy by providing proper balance alignment.

The design features of the Ohaus NV622 are equally impressive. The menu and calibration lock switch prevents accidental changes to settings, while the mechanical and software overload/underload protection adds an extra layer of safety. The stability indicator lets you know when your sample is ready for measurement, while the low battery indicator ensures you're never caught off guard. With auto shut-off and user-selectable print options, this portable balance offers flexibility tailored to your needs.

In conclusion, the Ohaus 5.7"x NV Series Portable Balances NV622 is a reliable and efficient weighing solution for various applications. Whether you're in a laboratory, industrial setting, or on the move, this balance delivers accurate results with ease.
Trust in Ohaus to provide the quality and performance you deserve.