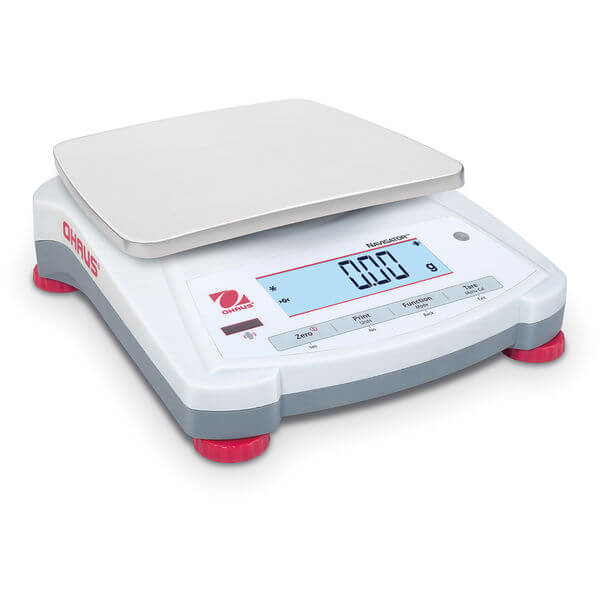 Ohaus 5.7"x 7.5" NV Series Portable Balances NV3202 3200 g x 0.01 g
Original price
$726.00
-
Original price
$726.00
Introducing the Ohaus 5.7"x 7.5" NV Series Portable Balances NV3202 3200 g x 0.01 g - the perfect companion for all your weighing needs.
With its advanced weighing technology and competitive price point, the Navigator series is a game-changer in portable scales.

Experience lightning-fast and accurate weighing results with the Navigator's one-second stabilization feature. This cutting-edge technology not only improves operator efficiency but also enhances productivity and throughput. No more wasting time waiting for stable readings!

Worried about overload? Don't be! The Navigator NV3202 has an overload protection system that can withstand loads up to four times its rated capacity. This means you can confidently weigh heavy items without fear of damaging the balance.

The Navigator NV3202 offers a range of essential weighing applications to suit your needs. Whether it's simple weighing, parts counting, percent weighing, or check weighing, this portable balance has got you covered.

Featuring a clear and easy-to-read Liquid Crystal Display (LCD) with backlight, the Navigator ensures optimal visibility in any lighting condition. Say goodbye to squinting and straining your eyes!

With both AC adapter and battery operation options, you can use the Navigator anywhere, anytime. The AC adapter is included for your convenience, while 4 C batteries (not included) provide portability when needed.

Constructed with a durable ABS housing and a stainless steel pan, the Navigator is built to last. The transportation lock, slip-resistant adjustable feet, and leveling bubble further enhance its stability and ease of use.

Additional design features include a menu and calibration lock switch for added security, mechanical and software overload/underload protection for peace of mind, a stability indicator for accurate measurements, a low battery indicator to keep you informed, an auto shut-off function to conserve battery life, user-selectable print options for customizable reports, and user-selectable communication settings for seamless data transfer.

Incorporating the brand's commitment to quality and precision, the Ohaus 5.7"x 7.5" NV Series Portable Balances NV3202 3200 g x 0.01 g is the ideal choice for laboratories, industrial settings, and beyond.
Don't compromise on accuracy or reliability - choose the Navigator and achieve excellence in weighing.