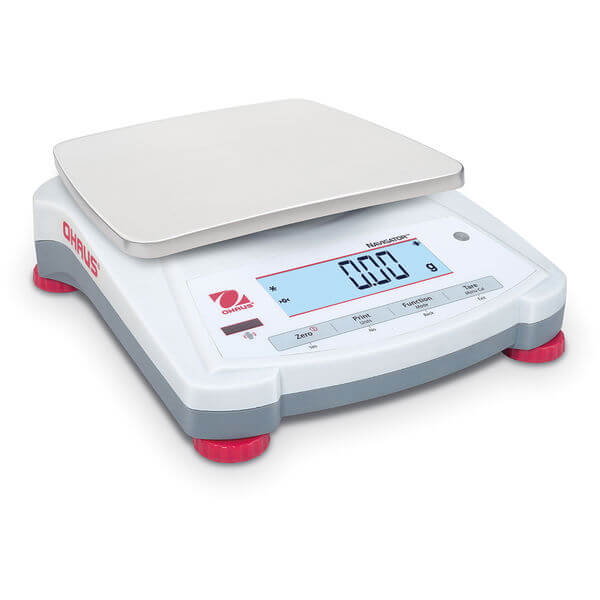 Ohaus 5.7"x 7.5" NV Series Portable Balances NV2202 2200g x 0.01 g
Original price
$693.00
-
Original price
$693.00
The Ohaus 5.7"x 7.5" NV Series Portable Balances NV2202 2200 g x 0.01 g is the perfect companion for any laboratory or weighing application.
With its sleek design and advanced technology, it offers a range of features that will enhance your weighing experience.

Featuring a maximum capacity of 2200 g and a readability of 0.01 g, this portable balance provides accurate and precise measurements every time. Whether you're weighing small parts, determining percentages, or performing check-weighing tasks, the NV2202 has got you covered.

One of the standout features of the NV2202 is its one-second stabilization time, thanks to its advanced weighing technology. This means you can get fast and accurate results, improving your efficiency and productivity in the lab. No more wasting time waiting for measurements to stabilize.

Safety is also a top priority with the NV2202. Its overload protection system can withstand loads up to four times its rated capacity, ensuring the balance remains undamaged even under heavy loads. This gives you peace of mind, knowing that your investment is protected.

The NV2202 is designed with convenience in mind. It features a liquid crystal display (LCD) with backlight for easy reading, even in low light conditions. You can power it using the included AC adapter or 4 C batteries (not included), making it suitable for both stationary and portable use.

For added flexibility, the NV2202 offers multiple communication options, including RS232, USB, or Ethernet (available as accessories). This allows you to connect it to other devices or systems seamlessly.

Constructed with durability, the NV2202 features an ABS housing and a stainless steel pan. It also comes with a transportation lock and slip-resistant adjustable feet for added stability during use.

With its menu and calibration lock switch, mechanical and software overload/underload protection, stability indicator, low battery indicator, auto shut-off, and user-selectable print options and communication settings, the NV2202 offers a complete solution for all your weighing needs.

Choose the Ohaus 5.7"x 7.5" NV Series Portable Balances NV2202 2200 g x 0.01 g and experience the benefits of accurate and efficient weighing in your lab or workspace.