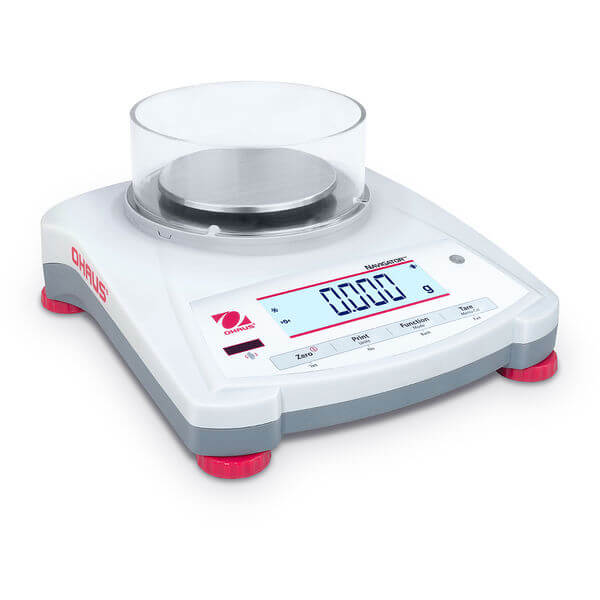 Ohaus 3.7"x NV Series Portable Balances NV123 120g x 0.001 g
Original price
$507.00
-
Original price
$507.00
Introducing the Ohaus 3.7"x NV Series Portable Balances NV123 120gx0.001g, the perfect companion for all your weighing needs.
With its advanced weighing technology and competitive price point, Navigator offers essential weighing applications that are bound to impress.

Featuring one-second stabilization, this portable balance ensures fast and accurate weighing results, enhancing operator efficiency and productivity. Say goodbye to time-consuming weighing processes and hello to streamlined operations.

But that's not all - the Ohaus NV123 is equipped with an overload protection system that can withstand loads up to four times its rated capacity. This means you can weigh with confidence, knowing that your balance is well-protected.

Whether you're in a laboratory or any other setting, the Ohaus NV123 has got you covered. It offers a range of essential weighing applications such as parts counting, percent weighing, and checkweighing. Its liquid crystal display (LCD) with backlight provides clear readouts, ensuring easy visibility even in low-light conditions.

Designed for convenience and versatility, this portable balance can be powered by either the included AC adapter or 4 C batteries (not included). It also offers multiple communication options including RS232, USB, or Ethernet (available as accessories), allowing seamless integration into your existing setup.

Built to last, the Ohaus NV123 features an ABS housing and a stainless steel pan. Its transportation lock ensures safe travel while the slip-resistant and adjustable feet guarantee stability during operation. The leveling bubble further enhances precision weighing.

With user-friendly design features such as a menu and calibration lock switch, mechanical and software overload/underload protection, stability indicator, low battery indicator, and auto shut-off, this portable balance is a breeze to use. You can even customize your print options and communication settings according to your preferences.

Invest in the Ohaus 3.7"x NV Series Portable Balances NV123 120gx0.001g and experience unmatched weighing accuracy and efficiency. Whether you're a scientist, jeweler, or anyone in need of precise measurements, this portable balance is the perfect tool for you.
Don't settle for anything less than excellence - choose Ohaus.