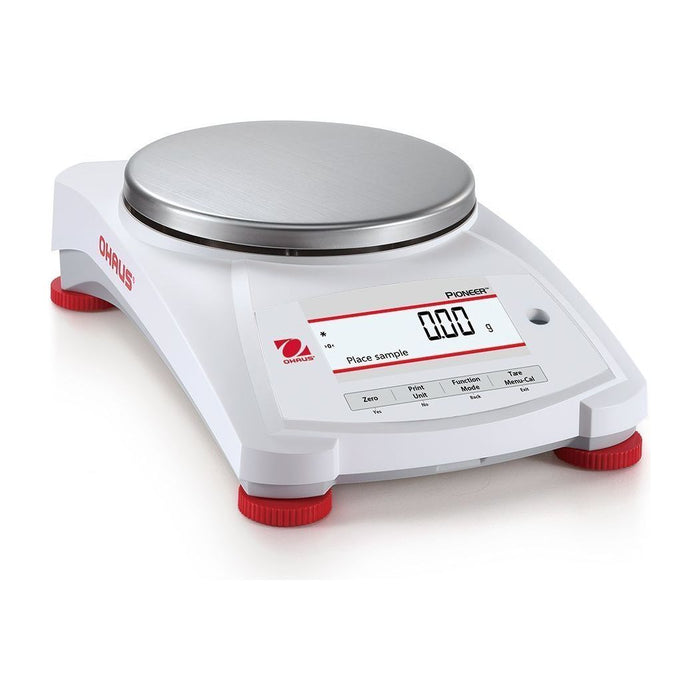 Ohaus Pioneer™ Precision PX4201, Stainless Steel, 4200g x 0.1g
Original price
$1,549.00
-
Original price
$1,549.00
Introducing the Ohaus Pioneer™ Precision PX4201, Stainless Steel, 4200g x 0.1g - the perfect weighing solution for laboratory, industrial, and educational applications.
With its high accuracy and repeatability, this scale delivers exceptional performance at an affordable price.

Built to withstand the rigors of everyday use, the PX4201 features a cast metal lower housing, a sturdy sub-pan, and a durable stainless steel weighing pan. This ensures long-term reliability and versatility in any setting.

The Pioneer PX4201 goes beyond the basics with its impressive array of features. Equipped with a second-line display, it provides additional information and guidance for enhanced convenience. The built-in static removal bar allows for easy grounding, ensuring accurate measurements every time. Plus, with USB connectivity, data transfer is quick and effortless.

Combining economy and high performance, this precision balance is designed to meet all your weighing needs. The 2-line LCD with backlight ensures clear visibility even in dimly lit environments. And with RS232 and USB communication options, data can be easily transferred to other devices for further analysis.

The PX4201 boasts a robust construction with a metal base, plastic top housing, and a removable stainless steel pan. It also has a glass draft shield, a real-time clock with GLP/GMP Data integration, and a weigh-below-hook for added convenience.

Operating the Ohaus Pioneer PX4201 is a breeze thanks to its user-friendly features. The power adapter ensures continuous operation without worrying about battery life. Furthermore, the scale offers customization options such as user-definable project and user IDs, software overload/underload indicator, stability indicator, and four operating languages.

In conclusion, the Ohaus Pioneer™ Precision PX4201 is an indispensable tool for accurate weighing in laboratory, industrial, and educational settings. Its blend of affordability and high performance makes it the perfect choice for those seeking precision and reliability.
Trust in the PX4201 to deliver accurate results every time, ensuring your weighing needs are satisfied.