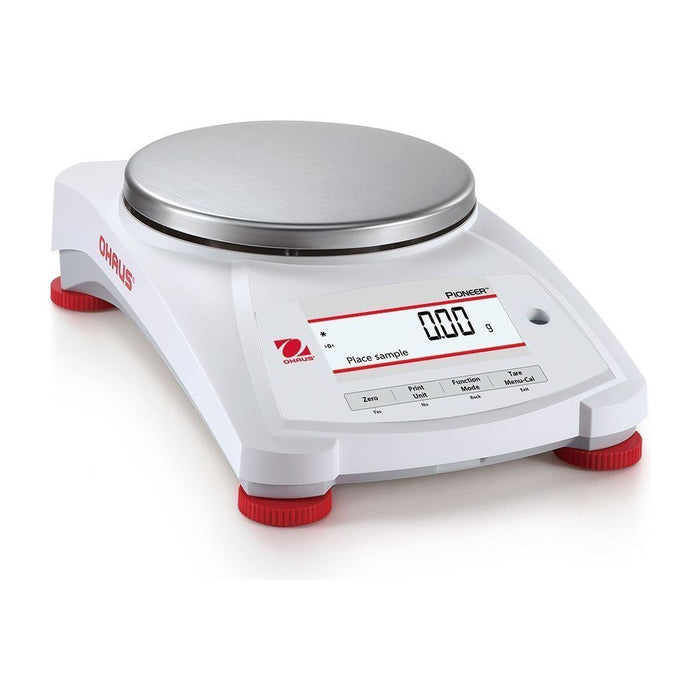 Ohaus Pioneer™ Precision PX623, Stainless Steel, 620g x 0.001g
Original price
$2,085.00
-
Original price
$2,085.00
The Ohaus Pioneer™ Precision PX623 is the perfect choice for those seeking high accuracy and repeatability in essential weighing applications.
Whether you're working in a laboratory, industrial, or educational setting, this precision balance delivers exceptional performance at an economical price point.

Designed with durability, the PX623 features a cast metal lower housing, sub-pan, and stainless steel weighing pan. This construction ensures long-term use and versatility, making it ideal for various weighing tasks.

One of the standout features of the Pioneer PX623 is its second-line display, providing users with additional information and guidance when needed. Additionally, it boasts a convenient static removal bar for grounding purposes and USB connectivity for seamless data transfer.

Blending economy with high performance, this precision balance offers a 2-line LCD with a backlight for easy reading in any lighting conditions. It also supports communication via RS232 and USB, allowing effortless integration into existing systems.

The construction of the PX623 is both sturdy and practical. It features a metal base, plastic top housing, a removable stainless steel pan, and a weigh-below hook for convenience.

With a wide range of design features, this precision balance is packed with functionality. It includes a glass draftshield, a real-time clock with GLP/GMP data integration, security bracket, calibration lock and in-use cover, user-selectable environmental filters and brightness settings, auto-tare and auto-dim functions, user-selectable span calibration points, overload indicator, software lockout and reset menu, user-selectable communication settings and data print options, user-definable project and user IDs, software overload/underload indicator, stability indicator, and support for four operating languages.

The Ohaus Pioneer™ Precision PX623 is genuinely a powerhouse regarding precision weighing. It's exceptional accuracy and durable construction make it the ideal choice for professionals seeking reliable results in their weighing applications.
Trust in the PX623 to deliver the accuracy and performance you need.