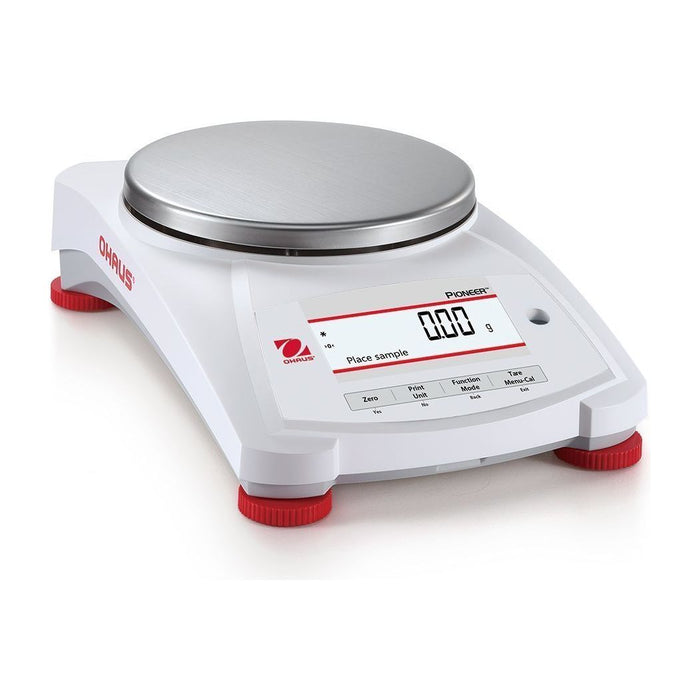 Ohaus Pioneer™ Precision PX623/E, Stainless Steel, 620g x 0.001g
Original price
$1,821.00
-
Original price
$1,821.00
Introducing the Ohaus Pioneer™ Precision PX623/E Stainless Steel Balance, a high-performance weighing solution designed for laboratory, industrial, and educational applications.
With a maximum capacity of 620g and a readability of 0.001g, this balance offers unparalleled accuracy and repeatability at an affordable price point.

Constructed with a cast metal lower housing, sub-pan, and stainless steel weighing pan, the PX623/E is built to withstand the rigors of daily use. Its durability ensures long-term reliability, making it a valuable addition to any workspace.

Equipped with a second-line display, the Pioneer balance provides additional information and guidance for enhanced usability. The static removal bar conveniently grounds any electrical charges, ensuring accurate and consistent measurements. Plus, with USB connectivity, data transfer becomes seamless and efficient.

The Ohaus Pioneer™ Precision PX623/E perfectly balances economy and high performance. Its sleek design features a metal base, a plastic top housing, and a removable stainless steel pan and glass draft shield. The integrated Real Time Clock with GLP/GMP data adds further convenience and compliance.

This precision balance boasts an array of impressive features: a weigh-below-hook for added versatility, a security bracket for stability, a calibration lock and in-use cover for peace of mind, user-selectable environmental filters and brightness settings for optimal visibility, and auto-tare and auto-dim functions for ease of use.

Moreover, the PX623/E offers user-selectable span calibration points, an overload indicator for safety precautions, a software lockout and reset menu for security measures, user-selectable communication settings and data print options for customizable usage, and user-definable project and user IDs for efficient organization.

With its stability indicator, four operating languages, power adapter operation, RS232 communication capability, and compatibility with Liberty Scales precision balances, the Ohaus Pioneer™ Precision PX623/E is the ultimate weighing solution for those seeking accuracy, reliability, and affordability.

Invest in the Ohaus Pioneer™ Precision PX623/E Stainless Steel Balance today and experience the power of precision in your weighing applications.