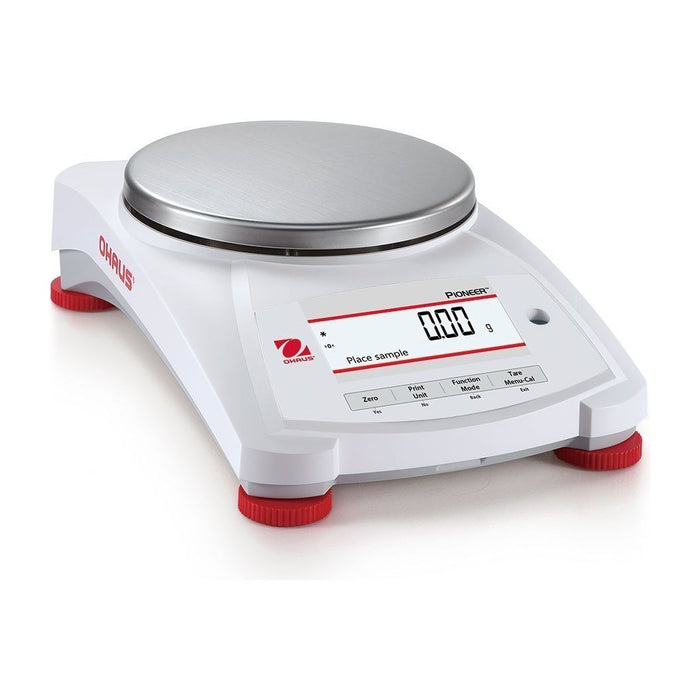 Ohaus Pioneer™ Precision PX6202, Stainless Steel, 6200g x 0.01g
Original price
$2,604.00
-
Original price
$2,604.00
The Ohaus Pioneer™ Precision PX6202 is the perfect balance between economy and high performance.
Designed for essential weighing applications in laboratory, industrial, and education settings, this stainless steel scale offers high accuracy and repeatability at an economical price point.

Constructed with a cast metal lower housing, sub-pan, and a durable stainless steel weighing pan, the PX6202 is built to withstand heavy use and provide reliable measurements for years. Whether you're conducting experiments in a research lab or weighing ingredients in a production facility, this scale will deliver consistent results every time.

One of the standout features of the Pioneer™ Precision PX6202 is its second-line display, which provides additional information or guidance to the user. This makes it easier to navigate through different settings and ensures accurate readings. The scale also has a static removal bar for convenient grounding, minimizing potential interference during weighing.

Regarding connectivity, the PX6202 offers RS232 and USB options for seamless communication with other devices. This allows easy data transfer and integration into existing systems, making it a versatile choice for various applications.

The PX6202 is designed with user convenience in mind. It features a removable stainless steel pan for easy cleaning and maintenance and a weigh-below-hook for measuring suspended loads. The scale also includes a range of design features such as a glass draft shield, a real-time clock with GLP/GMP Data integration, calibration lock and in-use cover, user-selectable environmental filters and brightness settings, auto-tare function, software lockout and reset menu, stability indicator, and four operating languages.

With its impressive features and durable construction, the Ohaus Pioneer™ Precision PX6202 is an excellent choice for anyone seeking a reliable and cost-effective precision balance. Whether you're working in a laboratory or an industrial setting, this scale will meet your weighing needs with accuracy and precision.