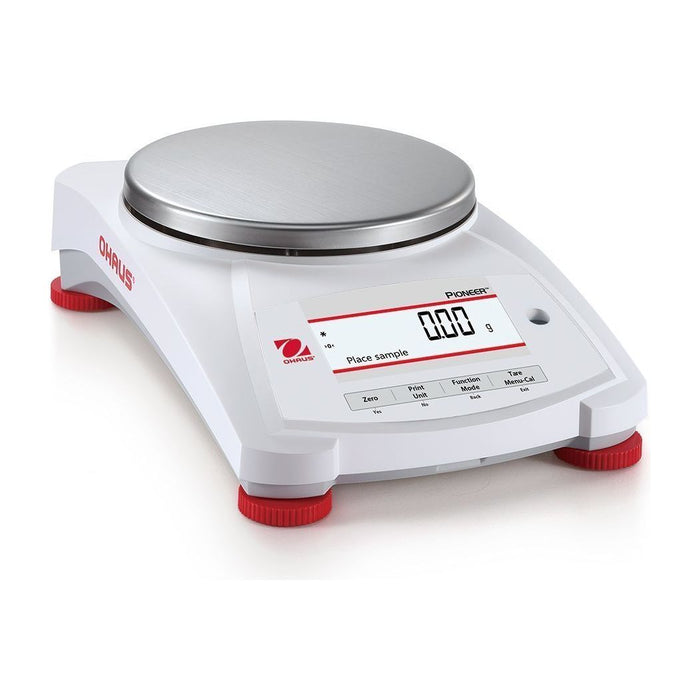 Ohaus Pioneer™ Precision PX4202, Stainless Steel, 4200g x 0.01g
Original price
$2,116.00
-
Original price
$2,116.00
Introducing the Ohaus Pioneer™ Precision PX4202, Stainless Steel, 4200g x 0.01g balance scale.
This exceptional equipment offers high accuracy and repeatability, perfect for essential weighing applications in laboratory, industrial, and educational settings. And the best part? It comes at an economical price point, combining economy and high performance.

Crafted with durability, the PX4202 features a cast metal lower housing, sub-pan, and stainless steel weighing pan. This robust construction ensures versatile, long-term use without sacrificing precision.

Equipped with a second-line display, the Pioneer PX4202 provides additional information and guidance when needed. Say goodbye to static interference with the convenient static removal bar that allows for easy grounding. Plus, with USB connectivity, data transfer is a breeze.

The Pioneer PX4202 boasts an array of impressive features. Its 2-Line LCD with backlight ensures clear visibility even in low-light environments. Communication is made seamless with RS232 and USB ports. The metal base and plastic top housing provide a sturdy foundation, while the removable stainless steel pan adds convenience to your weighing routine. With the weigh-below-hook feature, you can easily weigh oversized samples.

Designed for user convenience, the Pioneer PX4202 has a range of customizable settings. Choose from user-selectable environmental filters and brightness settings to suit your preferences. The Real Time Clock with GLP/GMP Data integrated feature ensures accurate timekeeping and data management. The calibration lock and in-use cover provide added security and peace of mind.

Operating the Pioneer PX4202 is simple and hassle-free. It comes with a power adapter for your convenience. Whether working in a laboratory or an industrial setting, the Ohaus Pioneer™ Precision PX4202 balance scale is your reliable partner for accurate weighing every time.