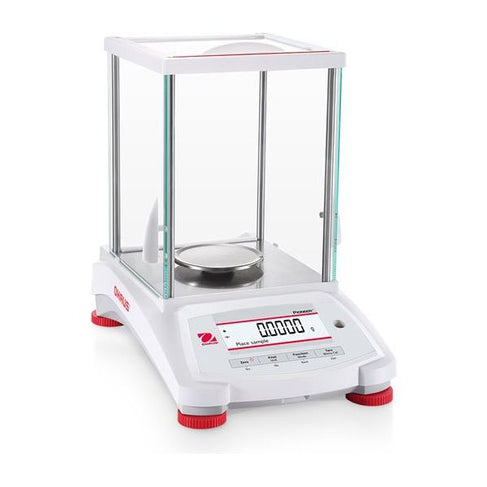 Ohaus Pioneer Analytical PX224, Stainless Steel, 220g x 0.0001g
Original price
$3,125.00
-
Original price
$3,125.00
The Ohaus Pioneer Analytical PX224 is the perfect balance of affordability and performance, making it an ideal choice for laboratory, industrial, and educational settings.
With a maximum capacity of 220g and a readability of 0.0001g, this stainless steel analytical balance delivers high accuracy and repeatability for essential weighing applications.


Designed with durability, the PX224 features a cast metal lower housing, sub-pan, and stainless steel weighing pan. This robust construction ensures long-term use and versatility in various environments.

One standout feature of the Pioneer PX224 is its intuitive operation. Equipped with a second-line display, this analytical balance provides additional information or guidance, enhancing user experience. The backlit liquid crystal display (LCD) ensures visibility even in low-light conditions.

The PX224 offers USB and RS232 connectivity for seamless data management and communication. This enables easy data transfer to external devices such as computers or printers. The balance also supports GLP/GMP data output with real-time clock functionality, ensuring accurate record-keeping.

The Pioneer PX224 has convenient design features that further enhance its usability. It includes user-selectable environmental filters and brightness settings, an auto-tare function for quick zeroing, and an auto-dim part for power-saving operation. The balance allows users to define their project and user IDs for better organization.

Safety and security are paramount when it comes to weighing instruments. The PX224 has a calibration lock and in-use cover to prevent unauthorized adjustments. Additionally, the integrated weigh-below-hook and security bracket add stability during weighing procedures.

With its affordable price point, the Ohaus Pioneer Analytical PX224 offers reliable results without breaking the bank. Whether conducting experiments in a lab, monitoring processes in an industrial setting, or teaching students in an educational institution, this analytical balance is your go-to solution for accurate and precise weighing.
Choose Ohaus, the trusted brand in analytical balances.