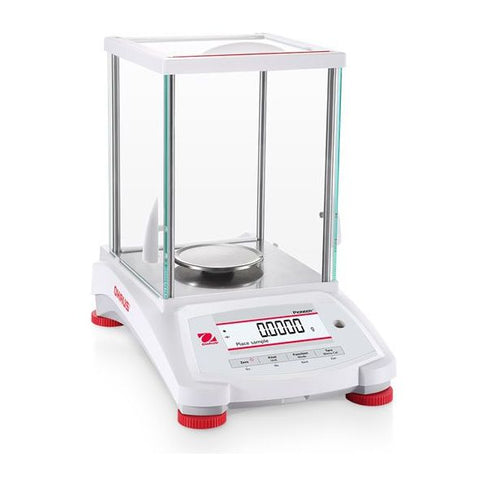 Ohaus Pioneer Analytical PX224/E, Stainless Steel, 220g x 0.0001g
Original price
$2,725.00
-
Original price
$2,725.00
Introducing the Ohaus Pioneer Analytical PX224/E, Stainless Steel, 220g x 0.0001g, the perfect balance of accuracy, affordability, and durability for all your weighing needs.
Whether you're in a laboratory, industrial facility, or educational setting, this analytical balance delivers exceptional performance and reliability.


With a maximum capacity of 220g and readability of 0.0001g, the PX224/E offers unparalleled precision. Say goodbye to guesswork and enjoy precise measurements every time. Its stainless steel weighing pan and cast metal lower housing ensures long-term durability and versatility.

The Pioneer PX is designed with user convenience in mind. Its second-line display provides additional information or guidance, making your weighing tasks effortless. The backlit LCD ensures clear visibility in any lighting condition.

Connectivity is a breeze with the PX224/E. It features USB and RS232 ports for seamless communication with other devices. Transfer data effortlessly or connect to a computer for efficient record-keeping. The GLP/GMP data output with a real-time clock ensures accurate documentation of your results.

The PX224/E is packed with intelligent features to enhance your weighing experience. Select from user-definable project and user IDs, choose between four operating languages, and customize communication settings and data print options. The software overload/underload and stability indicators provide real-time feedback for optimal weighing conditions.

We understand that affordability is essential to our customers, so we offer the PX224/E competitively without compromising quality. Rest assured that you are getting a reliable and accurate analytical balance at an economical value.

The Ohaus Pioneer Analytical PX224/E is ideal for those seeking precision, durability, and affordability in one package. Trust in Ohaus scales to deliver consistent and reliable results every time you weigh.
Upgrade your weighing experience with the PX224/E today.