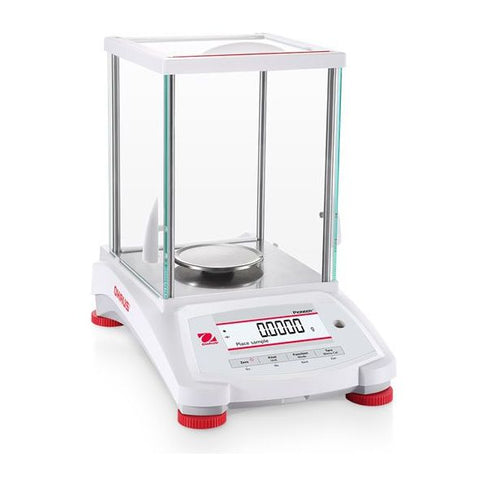 Ohaus Pioneer Analytical PX124/E, Stainless Steel, 120g x 0.0001g
Original price
$2,455.00
-
Original price
$2,455.00
The Ohaus Pioneer Analytical PX124/E is a stainless steel balance designed to meet the demands of laboratory, industrial, and education settings.
With a maximum capacity of 120g and readability of 0.0001g, this balance ensures high accuracy and repeatability for essential weighing applications.


Constructed with a cast metal lower housing, sub-pan, and stainless steel weighing pan, the PX124/E is built to withstand heavy use and provide long-lasting durability. Whether you're conducting experiments in a lab or weighing materials in an industrial environment, this balance is up to the task.

The Pioneer PX124/E features a second-line display that provides additional information or guidance, making it easier for users to navigate various weighing processes. The backlit liquid crystal display (LCD) ensures optimal visibility even in dimly lit environments.

This balance has USB and RS232 ports for seamless connectivity and data management. You can quickly transfer data to your computer or other devices for further analysis. The GLP/GMP data output with a real-time clock ensures accurate documentation of your weighing results.

Designed for user convenience, the PX124/E offers several valuable features. The static removal bar allows for convenient grounding, ensuring accurate and reliable measurements. The balance includes a calibration lock, security bracket, and in-use cover for added safety and protection.

With user-selectable environmental filters and brightness settings, auto-tare function, and selectable span calibration points, the Pioneer PX124/E allows customization to suit your specific needs. It also offers software overload/underload indicator, stability indicator, and four operating languages for enhanced usability.

Experience the reliability and precision of the Ohaus Pioneer Analytical PX124/E stainless steel balance. Whether you're working in a laboratory, industrial facility, or educational institution, this balance delivers accurate results every time.
Trust in Ohaus scales for all your analytical weighing needs.