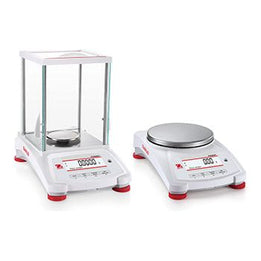 Ohaus Pioneer Analytical PX84, Stainless Steel, 82g x 0.0001g
Original price
$2,482.00
-
Original price
$2,482.00
Introducing the Ohaus Pioneer Analytical PX84, Stainless Steel, 82g x 0.0001g, the perfect balance of precision and affordability.
Whether working in a laboratory, industrial, or educational setting, this analytical balance provides the accuracy and repeatability you need for reliable results.

With a maximum capacity of 82g and a readability of 0.0001g, the PX84 is designed to handle a wide range of weighing applications. The stainless steel weighing pan, cast metal lower housing, and sub-pan ensure durability and long-term use.

The Pioneer PX84 is not only powerful but also user-friendly. Its intuitive design includes a second-line display providing additional information or guidance, making navigating your weighing tasks easier. The backlit liquid crystal display (LCD) ensures clear visibility even in low-light conditions.

Connectivity is made simple with the PX84. It features USB and RS232 connectivity options, allowing accessible communication with other devices or data collection systems. With GLP/GMP data output and a real-time clock, you can easily track and document your weighing results.

The construction of the PX84 is built to last. The metal base, plastic top housing, and glass draft shield offer stability and protection during weighing operations. The integrated weigh-below-hook, security bracket, calibration lock, and in-use cover provide added convenience and security.

In addition to its impressive features, the PX84 offers a range of customizable options to suit your specific needs. With user-selectable environmental filters and brightness settings, auto-tare functionality, software lockout and reset menu, and user-definable project and user IDs, you have complete control over your weighing process.

Invest in the Ohaus Pioneer Analytical PX84 to experience the perfect balance of performance and affordability.
With its high accuracy, durability, and user-friendly design, this analytical balance is ideal for professionals needing reliable weighing solutions.