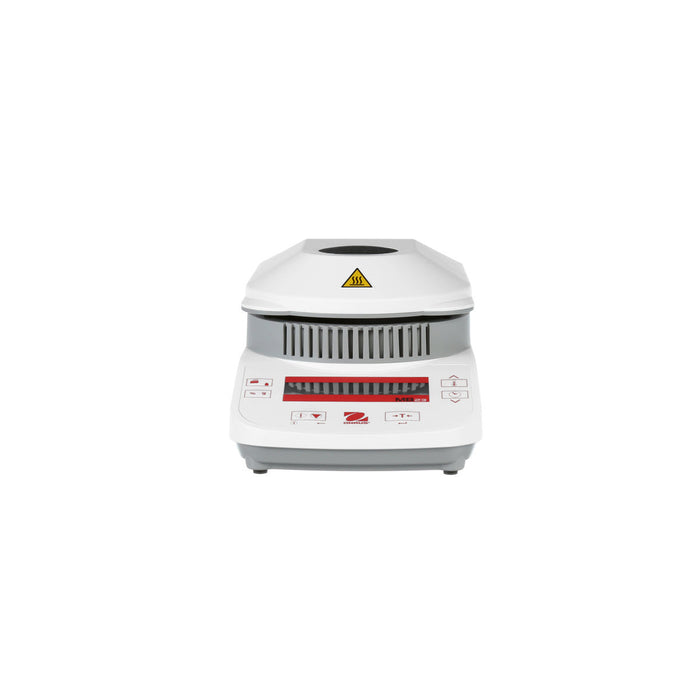 Ohaus, Moisture Analyzers, MB23, 110 g, 10 mg/0.1%
Original price
$3,709.00
-
Original price
$3,709.00
Introducing the Ohaus Moisture Analyzer MB23, a cutting-edge instrument to streamline your moisture determination process.
With its sleek and user-friendly design, this moisture analyzer is perfect for professional and personal use.

Featuring a maximum capacity of 110g and readability of 10mg, the MB23 is equipped to handle a wide range of samples. Its compact size and pan measuring 3.5 inches (90mm) make it an ideal choice for any workspace, whether a laboratory or a kitchen countertop.

One of the standout features of the MB23 is its glass-less infrared heating technology. This innovative design ensures faster and more efficient results, saving valuable time during your analysis. Say goodbye to waiting around for accurate readings!

Operating the MB23 is a breeze, thanks to its user-friendly touch-button design. With just a few simple touches, you can navigate the various functions and settings effortlessly. There are no complicated manuals or steep learning curves here.

The backlit liquid crystal display (LCD) provides clear visibility, even in low-light conditions, allowing you to monitor the progress of your analysis easily. Plus, with the included power cord and RS232 communication capabilities, connecting and powering your analyzer is hassle-free.

Constructed with an infrared heat source, ABS housing, metal pan support, metal pan handler, and an in-use cover, the MB23 is built to withstand the demands of daily use. Its durability ensures long-lasting performance so that you can rely on accurate results time after time.

With three shut-off criteria (manual, timed, or auto) and a heating range of 50° to 160° C (in 5° C increments), the MB23 provides flexibility and control over your moisture determination process. Whether you're conducting percent moisture determination, percent solid determination, or simply weighing samples, this analyzer has got you covered.

In conclusion, the Ohaus Moisture Analyzer MB23 is the perfect combination of efficiency, reliability, and ease of use. So why wait? Upgrade your moisture determination process today with this state-of-the-art instrument from Ohaus.
Experience the difference in accuracy and convenience that the MB23 brings.