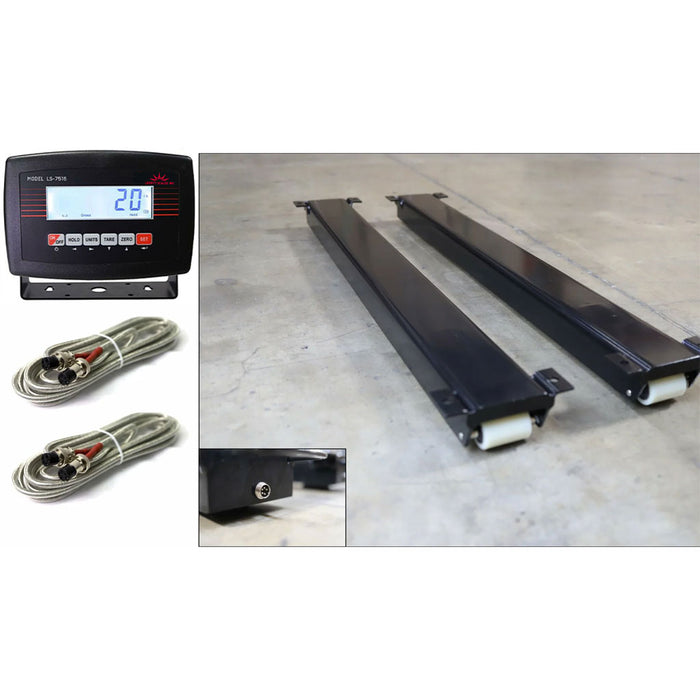 Liberty LS-WB Multi-purpose Weigh Beam System
Original price
$499.00
-
Original price
$999.00
Introducing the Liberty LS-WB Multi-purpose Weigh Beam System: the ultimate solution for all your weighing needs.
This portable, heavy-duty carbon steel weighing beam system is designed to revolutionize how you measure weights.

Key Features:
Ideal for a wide range of applications, including cages for animals, silos, milk tanks, small platforms, and storage containers, this versatile system is a game-changer. It simplifies the weighing process and ensures accurate results every time.
Equipped with the LS-7516 indicator, this system offers unparalleled convenience. With lb/kg selectability and a rechargeable battery, you can easily switch between units and never worry about running out of power. The auto-hold feature ensures that your measurements stay locked, allowing you to focus on other tasks.
Featuring an NTEP 6-digit 1" display with durable steel housing, the Liberty LS-WB Multi-purpose Weigh Beam System provides clear and precise readings. The built-in RS-232 communication port enables seamless data transfer to your computer or other devices.
Installation is a breeze with the integrated wheels and handles. Roll it into position and start weighing it immediately. The system comes as a complete set, ensuring you have everything you need to start immediately.
With factory calibration and overload protection, you can trust in the accuracy and durability of this system. And to give you peace of mind, Liberty offers a generous 5-year warranty.
Whether in the agriculture industry or need a reliable animal scale, the Liberty LS-WB Multi-purpose Weigh Beam System is your go-to solution. Experience the convenience, accuracy, and durability that Liberty Scales are known for.
Shipping Policy:

We offer free shipping for business addresses within the contiguous 48 states. For residential delivery, a small additional fee of $100 applies. Lift gate services are also available for easy unloading, with an optional $50 charge if no forklift is available. People from Hawaii & Alaska can
Contact us
 for personalized Shipping Quotes. Your satisfaction is our Top Priority! Kindly provide your contact number and company name for business purchases.
Transform your weighing experience today!