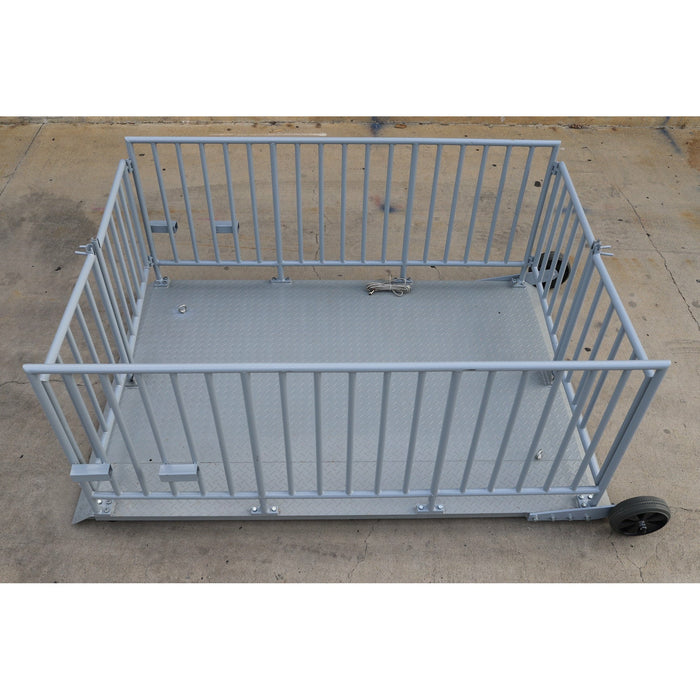 LS-930-10'x7' ( 120" x 84" ) platform Cage system Portable Livestock Animal Weighing Scale
Save

$1,501.00
Save

$1,501.00
Original price
$5,000.00
-
Original price
$5,000.00
Introducing the LS-930-10'x7' (120" x 84") platform Cage system Portable Livestock Animal Weighing Scale by Liberty Scales.
This innovative and versatile scale is designed to meet the diverse needs of farmers and ranchers, offering accurate and reliable weighing for a wide range of animals.
Key Features:
With its LS-7510-SS indicator featuring an LED or LCD display, this scale provides clear and easy-to-read measurements.
The platform measures 10' x 7' (120" x 84"), providing ample space for animals of all sizes, from sheep and goats to pigs, cattle, bulls, steers, cows, heifers, and even calves.
One of the standout features of this scale is its portability. Equipped with swivel casters, it can be effortlessly moved from one location to another, allowing for convenient weighing wherever needed. The scale also comes with a hand wrench for easy raising and lowering, providing added convenience for users.
Two casters are equipped with a braking feature to ensure stability during weighing. This ensures that the scale remains steady and accurate throughout the weighing process. The casters can be easily removed to provide a more stationary setup when necessary.
The LS-930-10'x7' platform Cage system Portable Livestock Animal Weighing Scale is user-friendly and packed with advanced features. It includes an Accumulation Mode that allows you to totalize weights, making it easier to keep track of overall weight gain or loss.
The built-in RS232 communication port enables seamless data transfer and integration with other systems.
Rest assured that this scale is built to last. It comes factory calibrated and offers overload protection for added durability.
Plus, Liberty Scales stands behind its product with a generous 5-year warranty, providing you with peace of mind and confidence in your investment.
Whether you're a farmer, rancher, or agricultural professional, the LS-930-10'x7' platform Cage system Portable Livestock Animal Weighing Scale is a must-have tool.
Shipping Options:
FREE SHIPPING:

 

Enjoy complimentary shipping to business addresses within the contiguous 48 states of the US.
Residential Delivery:

 

For home-based convenience, opt for residential delivery with an additional $100 shipping fee.
Lift Gate Services:

 

Need a forklift? No problem! Access the lift gate service for just $50.
Hawaii & Alaska:

 

Customers in these regions, please reach out for a customized shipping quote.
Experience Liberty Scales's convenience, accuracy, and reliability and take your livestock management to the next level.