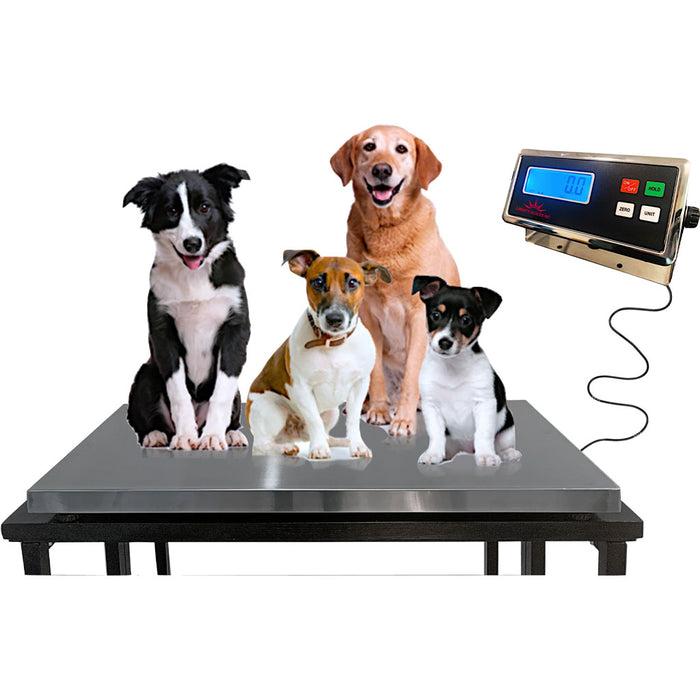 LS-922 Vet Scale Livestock Scale Hog Scale Goat Sheep Alpaca Pig Farm Scale
Save

$200.00
Save

$200.00
Original price
$499.00
-
Original price
$499.00
Introducing the LS-922 Vet Scale, a versatile and reliable tool designed to meet all your weighing needs.
Whether you're a veterinarian or farmer or need a portable floor scale for weighing large boxes or crates, this scale is the perfect solution.
Key Features:

This scale features the LS-7515-C indicator and offers precise and accurate measurements every time.
Its large, durable stainless steel surface measures 43" in length and 20" in width and has a low 2" profile platform, allowing animals to step on and off without any hassle.
The anti-skid rubber mat provides additional safety, preventing animals from slipping during the weighing process.
The LS-922 Vet Scale Livestock Scale is sturdy, reliable, lightweight, and portable. You can conveniently use it on the floor or tabletop, making it suitable for various environments.
Its 19' quick connecting cable ensures seamless connectivity between the scale and indicator, providing real-time weight readings.
Equipped with an LCD indicator that comes with an adjustable wall or desk mount stand, this scale offers maximum visibility and convenience.
You can easily switch between weighing units (lb or kg) based on your preference.
Additionally, the built-in RS232 communication port allows for easy data transfer if required.
With a load cell capacity of 2.2 times the scale capacity, this scale ensures overload protection, giving you peace of mind during the weighing process.
For those looking for a wireless option, an upgrade is available to make your experience even more convenient.
Whether you're weighing livestock, hogs, goats, sheep, alpacas, pigs, or any other animals on your farm or veterinary practice, the LS-922 Vet Scale Livestock Scale Hog Scale Goat Sheep Alpaca Pig Farm Scale is the ultimate choice. Its capacity of 1000 lbs and accuracy of .2 lb makes it suitable for a wide range of animals.
Invest in the LS-922 Vet Scale and experience accurate and efficient weighing like never before. Don't compromise on quality and reliability regarding your weighing needs.
Shipping Policy:

We offer free shipping for business addresses within the contiguous 48 states. For residential delivery, a small additional fee of $100 applies. Lift gate services are also available for easy unloading, with an optional $50 charge if no forklift is available. People from Hawaii & Alaska can Contact us for personalized Shipping Quotes. Your satisfaction is our Top Priority! Kindly provide your contact number and company name for business purchases.
Choose Liberty Scales for all your agricultural scale requirements.