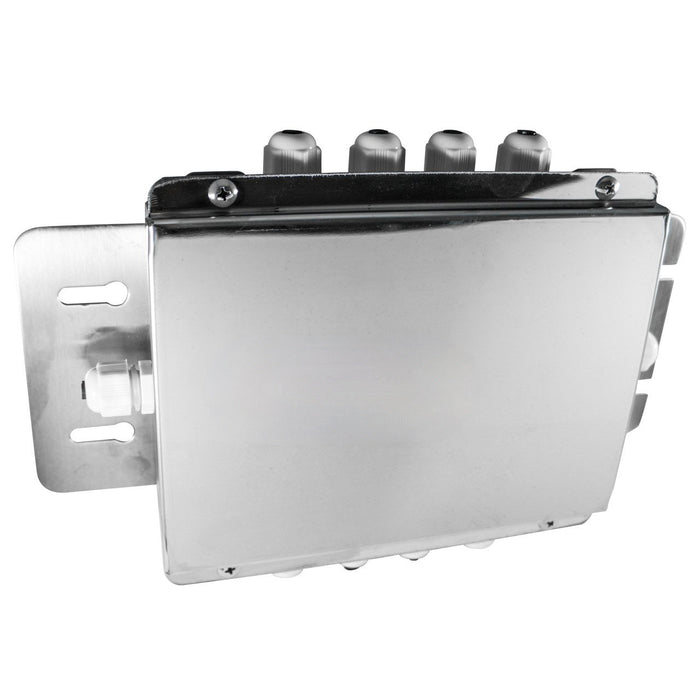 Liberty LS-JB Junction box Stainless Steel ( All Sizes )
Original price
$140.99
-
Original price
$699.00
Introducing Liberty LS-JB Junction Box Stainless Steel, the perfect solution for all your electrical wiring needs.
Designed by Liberty Scales, this versatile junction box is suitable for various applications.

The Liberty LS-JB Junction Box offers superior protection and longevity with its durable stainless steel construction. It ensures that all readings and signals from load cells are consolidated into one hub, providing a centralized and efficient system. No more messy and tangled wires!

This junction box is designed to be integrated into a home run cable, allowing seamless connectivity to an indicator. Say goodbye to complicated installations and hello to a streamlined setup process.

Liberty Scales understands that every application requires a tailored solution. They offer junction boxes, cables, and indicators to match any product or requirement. Liberty Scales has covered you whether you are working on a small-scale project or a large industrial application.

Not only does the Liberty LS-JB Junction Box provide practical functionality, but it also exudes a sleek and professional aesthetic. Its stainless steel finish adds a touch of elegance to any environment while ensuring durability in even the harshest conditions.

Invest in the Liberty LS-JB Junction Box Stainless Steel and experience the convenience of a centralized wiring system.
Trust in Liberty Scales' commitment to quality and innovation for all your junction box needs.
Shipping Policy:

We offer free shipping for business addresses within the contiguous 48 states. For residential delivery, a small additional fee of $100 applies. Lift gate services are also available for easy unloading, with an optional $50 charge if no forklift is available. People from Hawaii & Alaska can Contact us for personalized Shipping Quotes. Your satisfaction is our Top Priority! Kindly provide your contact number and company name for business purchases.
| | | |
| --- | --- | --- |
| Product No. | Material | No. of Channels |
| LS-Junction box-2-P | Plastic | 2 |
| LS-Junction box-4-P | Plastic | 4 |
| LS-Junction box-4-MS | Painted Mild Steel | 4 |
| LS-Junction box-4-SS | Stainless Steel | 4 |
| LS-Junction box-4L-SS | Stainless Steel | 4 |
| LS-Junction box-6-SS | Stainless Steel | 6 |
| LS-Junction box-8-SS | Stainless Steel | 8 |
| LS-Junction box-10-SS | Stainless Steel | 10 |
| LS-Junction box-12-SS | Stainless Steel | 12 |